06.10.09
home | metro silicon valley index | columns | style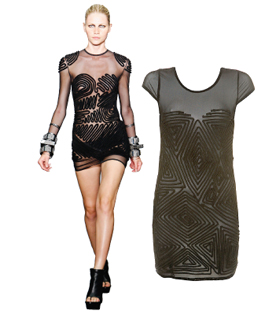 THE BUTTERFLY EFFECT: A tunic by Diane von Furstenberg features a bold black and white butterfly motif.
What Does Fast Fashion Really Cost?
Hidden costs affect creators and consumers
By Jessica Fromm
IT IS no secret that the fast-fashion movement has completely changed the way that young people buy clothes in America, but what is the price of this "more, now, again" approach to style? "Fast Fashion," a term coined with the rise of megachain stores like Forever 21, Top Shop and H&M, is a system that thrives on designer clothes being knocked off and sold for cheap prices at a rapid rate.
These stores operate on a high-speed business model where garment and accessories orders are sent out and new shipments arrive in almost every day of the week, thereby putting trendy looks into buyers' hands faster then they can say "copyright infringement." For example, an inexpensive reproduction of the Dolce & Gabbana cocktail dress that Megan Fox wore to the MTV Movie Awards the week before last will probably be in shoppers' eager hands this weekend. The system is great for fashionistas who want to indulge in a trendy look without paying a lot, especially if it's a trend that might be over in a few months.
Forever 21 in particular has been sued over copyright issues more than 50 times in the last four years by designers ranging from Diane von Furstenberg to Gwen Stefani, but it still hasn't changed its approach to merchandising. Dior, Alexander Wang and Lanvin are among many brands being obviously ripped off this season. Wang's see-through black minidress retails for $1,100, but at Topshop.com a very close match with a slightly different pattern is a mere $90. Dior's Diorette cocktail ring ($5,000-plus) can be found from Fred Flare, who sells a nearly identical faux babble online for $24. Then there is Lanvin's $2,875 lacquered metal navy necklace, which has a doppelganger at Forever 21 for $12.80.
Though it's understandable that most people don't have the resources to spend a grand on a garment, fast fashion isn't all sunshine and rainbows. First of all, high-end clothing designers are hurting as much as any luxury brand in the current economy. French designer Christian Lacroix announced last month that it was filing for bankruptcy. Both big fashion houses and small-time designers are threatened when these megastores basically steal their high-end products, change them ever so slightly and sell them for much less.
The reason that designer dress you saw on Paris Hilton a fortnight ago is now sitting on a shelf at Forever 21 for $20 is because it was made in a sweatshop. This dirty truth is pervasive throughout the fashion industry but is particularly prevalent with the throwaway approach to style that has become so popular with fast fashion. Then again, should a luxury designer really expect everybody to pay thousands for what is essentially lacquered metal (Lanvin) or less then a yard of see-through fabric (Wang)?
Perhaps the solution is to find a middle ground, where a simple garment or enamel necklace isn't ridiculously marked up and also isn't selling for prices that require slave labor production. Though there is little chance that a change in fashion consumption will happen anytime soon, at least people should know that those great deals at H&M do come at a price to both artistic integrity and human rights.
Send a letter to the editor about this story.