06.11.08
home | metro silicon valley index | silicon valley restaurants | review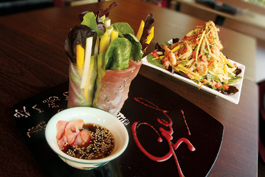 Photograph by Felipe Buitrago
Rare with Flair: Ahi salad rolls at Fuel Restaurant and Lounge.
Fuel Mix
Fuel has an original formula for modern Vietnamese, but results vary
By Stett Holbrook
FIVE-MONTH-OLD Fuel Restaurant and Lounge is Silicon Valley's latest entry into the modern Vietnamese restaurant concept. You know the kind: restaurants with urban chic dining rooms that play vibey, cool music and serve eclectic cocktails and Vietnamese food that incorporates nontraditional ingredients into dishes dressed up for a crossover clientele, places like Mountain View's Xanh, Tamarine in Palo Alto and Anise Café in San Jose.
Fuel's breezy interior is cool and inviting. A small lounge greets you as you walk through the glass doors. The lounge flows into the dining room, an attractive space that gets its design cues from a series of colorful portraits painted by a Vietnamese artist.
But I came to eat, not to dance, and as a place to eat Fuel runs hot and cold. The menu is described as simple Vietnamese, but that's not quite accurate. It's more simple and traditional than other modern Vietnamese restaurants, but Fuel still mixes things up with nonregulation ingredients like salmon, Chilean sea bass (a terrible choice from an environmental standpoint), skirt steak, sashimi and green onion pesto.
The appetizers and small-plate dishes I tried were some of Fuel's strengths. Goi ca ahi ($10) combines luscious ahi sashimi with precise cuts of tart green papaya and Granny Smith apples with basil, chile sauce and a lively lime vinaigrette into five artfully composed mouthfuls. It's an ideal starter that really revved up my mouth. Canh ga sot me ($7) are some of the best chicken wings I've had in these parts. The meaty nubbins are lacquered with a basil-infused tamarind sauce that's sweet and sour.
Every self-respecting modern Viet place has to have a lineup of rolls, and Fuel offers several good fresh rolls, but skip the fried cha gio tom cua ($8), a crab and shrimp roll. It's heavy with muddy, fried flavors.
I had several good noodle dishes. Mint often plays a supporting role in Vietnamese cuisine as a condiment you tear and sprinkle into noodles and soups, but here it plays a central part in the pho xao ga voi rau thom ($10), spicy chicken mint noodles. While the noodles weren't particularly spicy, the chopped mint mixed with the carrots, bean sprouts and green onions gave the dish a bright, light flavor. Good too was the ga xao xa ot ($10), spicy sliced chicken sautéed with the electric flavor of lemon grass served over jasmine rice. This one delivered the advertised spiciness. I like spicy.
That was the highlight reel. Here are the bloopers. Chem chep nuoung ($10) is described as "fire and ice" mussels. It pairs roasted mussels seasoned with scallion pesto and peanuts with a nuoc cham sorbet. The sorbet was quite good with balanced flavors of salt, sweet and sour. The idea is to combine a dollop of the sorbet (the ice) into the hot mussels (the fire) and create an amalgam of flavors. It's a clever idea that would have worked had the mussels not had the leathery texture of a boiled catcher's mitt.
Seventeen dollars is a lot to pay for the tom nuong mi toi (grilled tiger prawns with garlic noodles), given that the prawns were dry and burned in places and permeated with an acrid, ash-blown flavor. And the noodles were a mushy bore.
The worst offender was the xuon me chien gio ($17), crispy ribs painted with a tamarind glaze. The meat of the hulking pork ribs might have been boiled for all the flavor they had, but instead they were roasted to ill effect. They were crisp, but also as dry and flavorless as sand. The tamarind glaze seemed designed to try and cover for the failure of the ribs. It didn't.
The dessert list, so often a graveyard of the usual suspects (fried banana anyone?) is refreshingly good here. I loved the interplay of salty and sweet in the kem dua ($5), ground-peanut-sprinkled house-made coconut ice cream, and in spite of an off-brown color, the coconut-milk-topped mango crème brûlée was creamy and rich.
While some servers know the menu better than others, the restaurant's friendly waitstaff helps smooth out rough patches, too.
Has the modern Vietnamese restaurant concept been played out?
Two restaurants of the genre—San Jose's Onyx and Saigon 75—recently closed after brief runs. Silicon Valley may have a sufficient number of these restaurants, but I still think they have a lot to offer. No other Silicon Valley "ethnic" cuisine is pushing the boundaries of tradition and taking risks like modern Vietnamese food.
With few exceptions, South Bay Chinese, Japanese, Korean, Indian, Ethiopian, Thai and Mexican restaurants are content to keep working the standards of their cuisines. There's nothing wrong with that, but it's exciting when an established cuisine mixes things up and plays with nontraditional ingredients and techniques. For restaurants, the trick is to mix things up in a way that keeps diners digging what's on their plates. Fuel can be a bit clumsy at times, but it still has enough good moves to make me believe it will find its groove.
---
Fuel Restaurant and Lounge
Address: 385 S. Winchester Blvd., San Jose
Phone: 408.248.0018
Hours: Lunch 11am–2:30pm Mon–Fri and Sat–Sun. Dinner 5–10pm Mon–Wed, 5–11pm Thu–Sat and 5–9pm Sun.
Cuisine: Modern Vietnamese
Price Range: $10–$18
Send a letter to the editor about this story.