06.11.08
home | metro silicon valley index | movies | current reviews | film review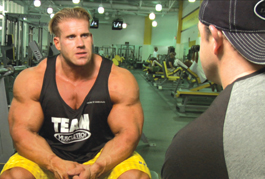 BATTLE OF THE BULGE: Bodybuilder Jay Cutler talks to filmmaker Chris Bell.
Bulk Male
Documentary 'Bigger, Stronger, Faster' takes a realistic look at steroids
By Richard von Busack
THE FUNNY and informative documentary Bigger, Stronger, Faster pinpoints the moment America really started pumping up: the second inauguration of Ronald Reagan, 1984. For the Bell family of Poughkeepsie, N.Y., these were vintage years. Dad worked for Big Blue, and Mom made cookies. All three brothers were hypnotized by muscleman media. On TV, America was held hostage by sneering Arabic the Iron Sheik, with his unbreakable "Camel Clutch." The Muslim hellion stomped on America's honor until Hulk Hogan squared the day. On the movie screens, the boys witnessed the inflation of Sylvester Stallone's chest and Arnold the Barbarian crushing his enemies and hearing the lamentations of der vomen. The three Bells became athletes. Eldest bro Mike, a.k.a. Mad Dog, yearned to be a professional wrestler. Medium bro (and director) Chris moved to Venice's Muscle Beach, to be closer to the very gym where Arnold stretched his deltoids. Youngest brother Mark became a power lifter.All nostalgic fun. The discordant note enters when Chris realizes on camera that he is entering his 30s and is never going to be Mr. Universe. That's when he gets down to this film's deeper subject matter. All three brothers hit a wall with their training. On the other side of that wall lie vials of the dreaded and illegal steroids that supposedly poisoned all professional sports. Chris Bell's investigation of steroids does its homework. The voices against the chemicals, while organized, run on a large amount of anecdotes. Bell gets face time with three of the most important anti-steroid advocates, Rep. Henry Waxman, Dr. Gary Wadler and Don Hooton, the Texan who claims his son Taylor died as a side effect of steroids. In these interviews, Bell stands his ground with bravery that would credit any journalist.
Chris Bell notes that professional sports practically float in beer, which has killed thousands more than steroids. He observes the flip-flopping of Schwarzenegger over the matter of juice (all that bulk wasn't just energy shakes, naturally). And Bell notes that emergency-room admissions because of steroids aren't among the top 125 reasons why someone goes to the hospital. Considering the threat-to-results ratio, Bell is perhaps right to liken our terror of steroids to old-time fears of marijuana as a Mexican death drug that will kill your son, deflower your daughter and knock over your trash cans.
Bell raises a number of questions that need answering. Key among them: Just because a drug is bad for children, is it automatically bad for adults? Disclaimer: I was a critic on steroids while watching the movie, taking hits of Primatene Mist during the running time and thus legally disqualifying myself for the upcoming Olympics. I must have been wheezing from the sheer excitement of seeing the Iron Sheik again. Plus I felt personally justified by Bigger, Stronger, Faster. I spent much of the last few baseball seasons explaining to censorious out-of-towners that there were gigagallons of anabolic steroids out there, and yet somehow there was only one Barry Bonds. Still: Bell approaches the subject with humility and heart. And always he seeks out the bigger picture: whether the madness lies in the drug, or in the uniquely American urge to win at all costs.

BIGGER, STRONGER, FASTER (PG-13; 105 min.), a documentary by Chris Bell, opens June 13.
Send a letter to the editor about this story.