06.11.08
home | metro silicon valley index | columns | girl's gotta eat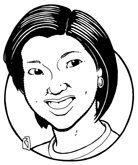 Girl's Gotta Eat
I Write Because I Eat
By Carolyn Jung
AS YOUR newest Metro food columnist, I thought it only fair to tell you something about myself. Be forewarned that I am sweet, spicy, very fishy and just plain nutty.
Let me explain.
If you are what you eat, then that's what I would most certainly be.
After all, I have an enormous sweet tooth. I adore chocolate in all its guises; I can't resist a chewy, warm out-of-the-oven cookie, and I consider exploring new bakeries a competitive sport.
I love a little heat on the palate—but not so much that my nostrils are on fire and my eyes are tearing uncontrollably as if my husband had gone mad and left me for the Olsen twins. No, I like just enough spice to make it interesting and complex.
I can't get enough of sushi. I could eat it every day if price and environmental issues were no consideration. If you ask most any chef what they love to eat on their day off, invariably they will say sushi. After overindulging in a lot of chi-chi food or highly seasoned fare, there's nothing better than the pristine, sweet, clean taste of the sea.
I'm also daft for nuts. In See's candy stores, I'm the one always holding up the line, picking my way through all the "nuts and chews.'' What can I say, but that I love the crunch and richness they give. And it doesn't hurt that they are full of the "good'' fat.
That's me, in a nutshell, so to speak. Crack me open and you'll find someone who's always been a bit obsessed with food. When you're born in San Francisco, though, it comes with the territory. By the time you can eat solid food, you're plotting how to get Ma-ma and Da-da to take you to the French Laundry in Yountville. And that's a wise move since it'll take you until adulthood to even get through on the reservation line.
As a kid, I baked every weekend after finishing my homework, of course. And on the rare night that my parents left me to fend for myself as a teen, my best friend and I would get together to cook our favorite dinner of chili macaroni Hamburger Helper.
That would be followed by a dessert that to this day we lament no longer exists: Spoon Candy, a delightful pudding we'd mix up, then pour on the enclosed packet of oozy chocolate that would magically harden over the top. All the while, we'd take turns wielding a big wooden spoon like a microphone, pretending we were starring in our own cooking show. We were Rachael Ray before there was Rachael Ray.
As we entered college, my friends and I stopped giving each other "normal'' birthday and Christmas gifts. Instead, we would pool our money to take each other to Chez Panisse in Berkeley.
So as you can see, even though I spent the first half my career as a newspaper journalist writing about everything from plane crashes to immigration issues, maybe it was fate that I've spent the most recent half as a food and wine writer for the San Jose Mercury News. In that time, I've had the honor of covering Julia Child's 90th birthday fete and her sad death only a year later; the rise to fame of chef David Kinch of Manresa in Los Gatos; Palo Alto's Bon Appetit Management Co. and its leadership in steering company cafeterias on a greener path; the dearth of young farmers in California and what that portends for the future; and the increasing concerns we all share about the safety and sustainability of our food supply.
I hope you'll join me in this space on the second and fourth Wednesdays of the month as I explore the serious, the fun, the thought-provoking, and of course, the delicious.
Carolyn Jung is a Santa Clara–based food and wine writer who blogs at www.foodgal.com.
Send a letter to the editor about this story.