06.11.08
home | metro silicon valley index | music & nightlife | band review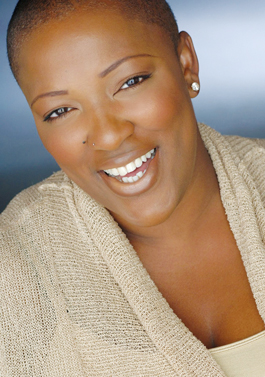 AMERICAN IDOL: Frenchie Davis may have been kicked off 'American Idol,' but she headlines this year's SJ Pride Festival.
Take Pride
Listen in on the 33rd Annual San Jose Pride Festival
By Mike Connor
THE dark days of late 2007 to early 2008 have passed. Nevertheless, the life-altering effects of the strike by the Writers Guild of America reverberate into the present. For example, fans of the awesomest show on TV, Battlestar Galactica, must accept the fact that this week's episode will be the last for quite a while, thanks to the strike. Some unlucky victims subscribed to Grey's Anatomy on iTunes, only to find that this season will be five episodes shorter than originally planned. And think of the poor fans of The Bionic Woman, which was reportedly canceled with plans to complete a 13-episode season. Alas, the last five episodes will never be made.
It's tough out there, but perhaps the biggest losers are the nonprofits across the country that canceled their big Oscar party fundraising events for fear that the Oscars wouldn't happen. On Jan. 15, SJ Pride made the call to cancel its annual Oscar party.
Luckily, the California Supreme Court came through in the clutch to legalize gay marriage, and in doing so, put gay marriage back in the news just in time for the Pride festival in San Jose this weekend. The decision doesn't technically go into effect until June 17, which makes SJ Pride less of a honeymoon and more of a bachelor/bachelorette party for the soon-to-be newlyweds.
This year's MC—comedian, motivational speaker and professional football player Jenny McNulty—expresses her excitement about the prospect of gay marriage.
"You know, I would like to get married, I really would," says McNulty in one of her bits. "Domestic partners, as you all know, only offer a fraction of the rights of a civil marriage, and the phrase pisses me off. 'Domestic partner' sounds like you clean houses together."
Not that Pride is going to be wholly politicized, and in another one of her bits, McNulty insists she's not really a political humorist. "I think [politicians are] all crooked," says McNulty, "especially the one running for president, 'cause, think about it: the person who wants to be president wants to be the leader of the free world. They've got some power issues."
"I think from now on, the presidency of the United States should be determined somewhat like jury duty," continues McNulty. "One day you just walk out to your mailbox and, 'Aw, shit. I gotta be president next month? Maybe I can call in sick. Hello, this is the president [cough, cough].'"
McNulty's sense of humor is a welcome addition to this year's festival, themed "Love, Laugh, Be Proud," featuring two big-name headliners, Frenchie Davis (who got the shaft on the second season of American Idol) and R&B singer/songwriter Ari Gold.
As usual, the main event is the Sunday parade and festival, but SJ Pride kicks off on Saturday, June 14, in the Discovery Meadow of Guadalupe Park with its annual "Free Community Day in the Park" from 11am until 6pm. The family-friendly entertainment and activities begin with the progressive Christian sounds of the First Congregational Church Choir. Diamond John's Drag Review, Mr. and Mrs. South Bay and Mid One also perform.
McNulty will MC the second annual women's music festival on Saturday from 1 to 6pm, featuring San Jose's Lisa Dewey, as well as Dianna Gatto and the Craving, Tamra Engle, Blue Serra and Orquesta d' Soul.
But the real party starts with the 33rd annual parade on Sunday morning beginning at 10:30am at Santa Clara and Market streets in downtown San Jose. The parade will make its way to the Discovery Meadow via Almaden Boulevard and Park Avenue, culminating in an all-day party at the park filled with vendors, a country & western dance area, a senior grove, a family carnival, a community dance tent (featuring performances by Jeannie Tracey and FLAVA) and a microbrew tent.
And of course on the main stage, freestyle drag performer Lucy Manhattan, the ProLatino Aztec Dancers, Trusting Lucy, CheerSF, Finding Stella, Lisa Dewey and SmashUp Derby support the evening's headliners Frenchie Davis and Ari Gold.
SAN JOSE PRIDE takes place on Saturday and Sunday (June 14–15) at Discovery Meadow in Guadalupe Park. Admission is free on Saturday and $10–$15 on Sunday (children under 12 and seniors over 60 get in free). For more information, visit www.sanjosepride.com. (888.575.7743)
Send a letter to the editor about this story.