06.11.08
home | metro silicon valley index | the arts | stage | review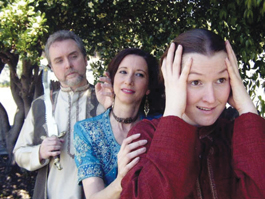 Photograph by Eric Hopper
MISTAKEN IDENTITIES: Ron Talbot (from left), Kim Saunders and Fiona Lawson star in 'Twelfth Night.'
Indian Illyria
Arclight Rep puts Eastern spin on 'Twelfth Night'
By Marianne Messina
WITH A LITTLE shuffling of scenes, Arclight Repertory Theatre's Shakespeare on the Square Festival presentation of Twelfth Night puts an early premium on clarity—speeches that explain the characters precede their entrances; a dumb show and dance depict stormy waves overtaking Viola (Fiona Lawson) and her brother, Sebastian (Benjamin Boucvalt). Arclight's Illyria (where the storm beaches the siblings) is something like India. So the music is sitar and the waves are a manned sheet of blue silk. Like the original Twelfth Night holiday, the play is full of drunken revels, an element of the topsy-turvy and some gender swapping.
Shipwrecked Viola decides she'll fare more safely posing as a youth named Cesario. Naturally, she ends up confidante to the duke, Orsino (Ron Talbot), who is madly in unrequited love with Olivia (Kim Saunders). Orsino employs Viola/Cesario to woo Olivia for him. Though Olivia refuses the duke's suit, Saunders makes it clear that Olivia relishes Orsino's hopeless overtures. "We'll once more hear Orsino's embassy," she tells her maidservant Maria (a charming Shruti Tewari) with a chop-licking grin. Vain and used to getting what she wants, Saunders' Olivia is not so much sighing over Cesario as pleasantly surprised by "him."
In the Indian Illyria, oaths to Mercury go, instead, to Krishna; bejeweled turbans, tunics and churidar pants replace robes and crowns (Alyssa Lichtenstein, costumes). The soft, melancholy strains of sitar, guitar and mandolin (composed for the show by Bob Crabb and played by live musicians) work differently from scene to scene. Amid the raucous partying of Sir Toby Belch (Mark Drumm), the music marks a mysterious pause. In Orsino's opening scene, it emulates the spell cast by the notion of Petrarchan love: Eyes closed, Talbot falls dreamily into the music, fingers plucking the air as if he's finding notes there. Orsino's sudden, "Enough, no more. 'Tis not so sweet now as it was before" is all the funnier for it, underscoring Shakespeare's view that the courtly love tradition is full of connoisseur pretension.
Sitar music augments the sensuality of choreographer Shruti Tewari's lovely dance between Orsino and Cesario. As they shadow each other's movements and end in a touching pose, the moment signals a shift in Orsino's feelings. When Cesario/Viola asks, "Sir, shall I to this lady?" Talbot gives us a slight hesitation, an unconvinced "Ay, that's the theme," as someone just going through the motions. Arclight exploits Shakespeare's bawdry at every turn and keeps the stage biz funny. "Many a good hanging prevents a bad marriage," says Feste the Jester (a delightful Melissa Navarro), and Navarro lets the phallically tubular drum hanging at her crotch droop at the punch line. Hiding, to watch Malvolio eat up his praises in a fake letter from Olivia, the underling cohorts turn blurted exclamations into birdcalls and suddenly exposed bodies into statues. Missing all this, Mark W. Jordan's Malvolio demonstrates the self-involvement that makes him an easy gull, which in turn helps soften his later mistreatment.
Daniel Norberg's character, Sir Andrew Aguecheek, can often get lost among the bawdy Belch bunch, but Norberg's Tweedledum of a cowardly Andrew is exceptionally endearing and enjoyably dupable at once. While Lawson casts Orsino enough desirous glances to make Viola humorously love-struck, she also projects enough gravitas to deliver the line, "Disguise, I see that thou art a wickedness," less as a laugh line and more as a central question.
TWELFTH NIGHT, an Arclight Repertory Theatre presentation, plays Friday–Saturday at 8pm and Sunday at 7pm through June 28 at Theatre on San Pedro Square, 29 N. San Pedro St., San Jose. Special performances of Indian classical music and dance by Abhinaya Dance Company take place Saturdays at 7pm and Sundays at 6pm outside. Tickets are $10/$15. (800.838.3006)
Send a letter to the editor about this story.