June 13-19, 2007
home | metro silicon valley index | the arts | stage | preview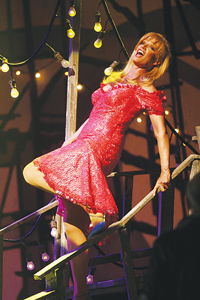 Photograph by Carol Rosegg
Active Susan: Susan Anton belts out a number in 'All Shook Up.'
Elvis Lives
'All Shook Up' features Susan Anton in a musical about an old acquaintance
By Marianne Messina
JUST WHEN you think the world is all Elvised out, along comes another repurposing of the Pelvic repertoire, in this case All Shook Up, which tours through town by way of American Musical Theatre of San Jose. Nonetheless, a chat with the charming Susan Anton, one of the stars in the musical, makes you believe in the Good Fairy of overdone music. The still-svelte and beautiful Anton spoke enthusiastically from the Orange County production: "It's a lot of farce, but at the same time it keeps landing this wonderful message about leading with your heart." Surviving bimbification-by-Baywatch, probably by heeding this message, Anton's career has lived to accrue a mile-long list of notable stage, film and sitcom credits. "Just keep leading with your heart, and you'll never go wrong. You know, keep it open and keep growing."
It's hard to guess who inspired whom when, as a 22-year-old stage performer, Anton met Elvis at an impromptu cast party on the Las Vegas strip. "Elvis said, 'Come on over here; I want to show you something.' And I said, 'Oh no, here comes one of those bad B-movies.'" But unlike a B-movie, or even an Elvis movie for that matter, Elvis took her to his book collection. He "sat on this little footstool and started to read to me Kahlil Gibran's The Prophet, which was amazing. It's this wonderful little book of enlightenment and spirituality. And he signed it, and he gave it to me and just told me to have a blessed journey."
These days Anton approaches the task of choosing new projects with a sense of mission that sees performing as a sort of outreach. "I ask myself, does it have value for others—not to sound too California, but what does it offer to the universe?" Those guidelines led Anton to perform in several incarnations of Eve Ensler's The Vagina Monologues, including one in San Francisco. For her, it was a chance to learn, teach and share "the intimate journey that women take."
Just knowing Anton's sense of commitment commends whatever qualities in All Shook Up drew her to the role. "It busts up the conception that love has to look a certain way or show up a certain way," Anton explains. "This is about, no, love is a feeling in the heart, and love is never wrong, you just have to open up your heart."
The story line has plenty of misconceived affections. Joe DiPietro based the book loosely on Shakespeare's Twelfth Night, the one where Viola poses as a man to counsel the Duke, who pines for Olivia, who falls in love with Viola, who's fallen for the Duke. In the case of All Shook Up, girl mechanic Natalie (Jenny Fellner) poses as a guy so as to befriend the biker hottie Chad (Joe Mandragona), who has just rolled into the one-horse town and fallen in love with the haughty Miss Sandra, Anton's character. "I'm chasing this character; another character's chasing me; and everybody's kind of chasing everybody." (If confusion be the food of love, play on.) "She thinks that she's got it all together, yeah," Anton says of her character. "She's come here to run the museum, and it's the last place she thinks she's ever going to find a man with poetry in his soul." You can probably tell this story has a happy ending.
Anton has been singing professionally since she sang her way to second runner-up in the 1970 Miss America pageant, so she has no problem singing "Hound Dog," "Let Yourself Go" and "One Night With You" in the show. Less comfortable with the dance routines, Anton found the three-week production timetable frustrating. "You know, you want it to come right away." The cast worked long hours six days a week. "Everybody's feet hurt!" But Anton enjoyed the resultant bonding among the cast. "It is such an intense, wonderful love affair ... I wish everyone could experience that."
All Shook Up, presented by American Musical Theatre of San Jose, runs June 19–24, Tuesday–Friday at 8pm, Saturday at 2pm and Sunday at 1 and 6:30pm at the San Jose Center for the Performing Arts, 255 Almaden Blvd., San Jose. Tickets are $13.75–$73. (1.888.455.SHOW)
Send a letter to the editor about this story.