June 13-19, 2007
home | metro silicon valley index | columns | silicon alleys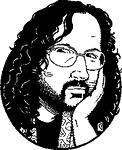 Silicon Alleys
Dance on My Grave
By Gary Singh
SINCE THERE already exist Kafka walking tours of Prague and Dashiell Hammett tours of San Francisco, I decided to get narcissistic and fantasize about what would constitute a morbid Gary Singh walking tour of San Jose later on in the future.
The year would be 2020, and tourists would come to San Jose and embark on a tour of homogeneous condominiums and despicable chain establishments that have long since replaced all the locales that I used to hang out at. The San Jose Convention & Visitors Bureau will sponsor the tour, and it will be called, "A Literary Bus Tour of Gary Singh's Former Haunts That Aren't Here Anymore."
All vain presumptuousness aside, I can see it now:
We will see a Gray Line Tour bus stop at 69 E. San Fernando St., site of the column about the taxi driver who tried to extort money from a young woman. Unfortunately, the tour-bus driver will have to explain that the famous neighborhood watering hole that used to be there for 80 years is now, in 2020, a repulsive T.G.I. Friday's franchise because the Redevelopment Agency wanted something that looked more like P.F. Chang's next door.
Continuing around downtown San Jose in 2020, the Gray Line bus driver will point out all the high-rise housing that has been erected in the last 12 years, along with all the empty street-level establishments that used to be live music clubs where Gary Singh would sit around and jot down story ideas on cocktail napkins. A tourist passenger from Norman, Okla., then asks the driver what happened to all these live music clubs that Singh used to hang out at. The driver tells her that as soon as all the yuppies moved into the high-rises, they immediately complained about the noise, so they insisted that all the clubs get shut down, and the mayor went right along with it because he didn't know any better.
Then she asks: "But didn't the people who bought these condos realize that they were moving into an urban nightlife neighborhood?"
"Doesn't matter," the driver tells her. "The mayor and the police decided that all nighttime establishments were the same and they needed to take back San Jose and get rid of it all. So that's what happened. They spent a decade repeatedly nailing the clubs for every idiotic farmer's town technicality until everyone finally gave up and left."
"So the police had an 'us against them' mentality," she said.
"Yep."
Then another passenger, Mr. Addison Gentry, 75, a retired pigeon farmer from Firebaugh, chimes in with a question: "So what are the actual boundaries of downtown?"
"Downtown is San Jose now," the driver tells him. "You see, San Jose broke up into 40 different cities a long time ago. What used to be called 'Downtown' is now the actual city of San Jose and the rest is different cities, Berryessa, Silver Creek, Cambrian and so on. It's all divided up now."
"Really?"
"Well, it always was 40 different towns duct-taped together anyway," the driver explained.
"You mean, like what happened to the Soviet Union happened to San Jose?"
"Exactly."
"Do the Sharks still play here?"
"No, they moved to San Francisco in 2015."
"Damn," Gentry said. "Did Singh ever write about all this?"
"He often joked about it."
"Wow. I'm going to go out and buy his books as soon as I get back to Firebaugh."
The driver then tells him: "You used to be able to get 'em here, but there's no bookstores left anymore."
The bus tour then ends at a brand new Applebee's franchise, which used to be Original Joe's on First Street.
Contact Gary Singh or send a letter to the editor about this story.