June 13-19, 2007
home | metro silicon valley index | music & nightlife | review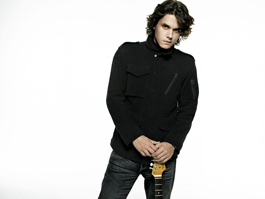 Your hollow body is a wonderland: Who needs a girlfriend when you've got a guitar?
Mayer Clinic
John Mayer has left the coffee house
By Claire Taylor
Admittedly, I was cynical about seeing John Mayer live at the HP Pavilion this past Tuesday. Since his humble Room for Squares days, Mayer's popularity has swelled to such heights that it's easy to think his ego may have grown just as large, possibly big enough to block out the sun. In the process of gaining fame, the technical quality and heart in Mayer's music has, in many early fans' eyes, dwindled to near nonexistence, leaving only a watered-down vehicle for making money. Heightened sales only lend to creativity in the sense that it's easier to afford more studio time with producers willing to tweak every little aspect of a song, but more is so often less when it comes to music.
That said, though Mayer's recent musical jaunts have been less than stellar to my (obviously impeccable) ears, his June 5 live show rejuvenated my faith in his ability as a performer. As soon as there was any hint of Mayer's ascent to the stage, the crowd produced a deafening echo of applause and cheers, a few sitting near the stage lifting signs asking for guitar picks and requesting songs. Moments later, the lights came on and the musician began to play a bluesy riff, opening with the song "Belief" from his latest album, Continuum. Behind Mayer, three rows of three screens displayed live images of the show, alternating between Mayer and his various backing musicians. Though the show was seated, all of those on the floor and in the lower balcony seats were on their feet.
"I just wrote this," Mayer said as a preface to his first him from Room for Squares, "No Such Thing." I had to wonder how much of the "coffeehouse John Mayer" who wrote the song was still in there as two backing guitarists, a bassist, a drummer, a saxophonist and a trumpeter accompanied him onstage. Still, though Room for Squares was released in 2001, Mayer played the song as if it were brand new.
Following the track "Good Love Is On the Way," recorded by Mayer's trio, the 117-foot-tall amphitheater swelled with energy, and Mayer said, "You guys feel phenomenal as a crowd." The lanky musician, clad in a white grandpa v-neck T-shirt and olive green cargo pants, beamed throughout the set, feeding and feeding from the audience, displaying a surprising level of enthusiasm for someone who performs nearly every night. The audience lapped it up, and with each extended note, Mayer drew out his facial expressions to match, creating a semi-theatrical experience that brought out a near modern-day Beatles frenzy in the ticketholders, young and old alike.
Later in the set, Mayer began rambling, eventually giving an impromptu performance of a rap from Revenge of the Nerds. He complained, "How is my mind full of such worthless shit from the '80s?" and continued that he wished he could "click and drag to the trash, then learn all your names." Though cheesy, that sentiment, along with the positive message of songs such as "Vultures," which includes the repeated phrase "don't give up," is part of the larger reason that Mayer has become so famous. His lyrics speak to basic human emotions, and he carries himself with a confident ease and lack of worry that's admirable in anyone of his elevated stature, let alone the everyday man. Plus, it doesn't hurt his likeability to see him reach out to young audience members, mouthing between verses that he wants to have the sign they made for him. Clearly, that would make any teenage girl's life.
So while I still prefer intimate venues, with close-bodied sing-alongs reminiscent of church, the fact is Mayer has outgrown his coffeehouse roots and has found himself an audience more than willing to pay $7.50 for a cup of joe. And he puts on a damn good show.
Send a letter to the editor about this story.