June 13-19, 2007
home | metro silicon valley index | the arts | stage | review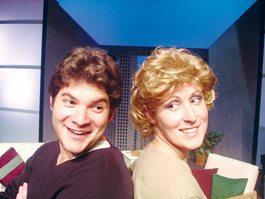 Photograph by Will Lowry
They still believe in love: Maegan McNerney and Ken Handler try to get along in 'They're Playing Our Song.'
A Match Made in Music
Egos collide in 'They're Playing Our Song,' Neil Simon's look at a songwriting couple
By Marianne Messina
WITH MUSIC and lyrics by the husband/wife team Marvin Hamlisch and Carole Bayer Sager, Neil Simon's 1979 musical They're Playing Our Song explores the complications in artistic relationships that are both professional and personal. Well, conceptually at least. Somehow, in the fictional pairing of lyricist Sonia Walsk (Maegan McNerney) and songwriter Vernon Gersch (Ken Handler), the more important question seems to be where the line lies between quirky and annoying. Showing up 20 minutes late for her first collaborative session with Gersch, Sonia grows more troublesome, tardy and truant by the minute. As she abandons sessions to coddle her symbiotic ex-boyfriend or insists that a dinner date is the only cure for writer's block, it becomes ever more amazing that Vernon doesn't kick her to the curb. Either pop lyricists aren't a dime a dozen or Vernon is desperate for a little meshugas in his life.
On opening night at this California Theatre Center production, the audience met Sonia's outlandish demands with great groans—of indeterminate tone. Maybe they were just lamenting the days before MP3 and email, when you actually had to sit in the same room with your musical collaborators. Fortunately, you can count on Simon, even at the middle of his game, for a funny line just when things are slowing down. At one point, Vernon describes his anger: "I was going to take a Valium, but I couldn't get my teeth unclenched." Or "Did that come out wrong?" says she. "Only if you happened to hear it," says he.
Scenic designer Will Lowry gives the show a classy, efficient set that takes us from Vernon's uptown high rise to Sonia's disheveled downtown flat with some screen panels here and some strewn clothing there. Lowry has added a nice touch in changing the view out the picture window, with Sonia getting the modest buildings to Vernon's domineering skyscrapers (as if their window views compensated for their personalities). Similarly, director Gayle Cornelison sets each apartment under different lighting (light designer David McCollum), bright ambers for his (a contrast to his dullness) and moody pale blues for hers (in contrast to her brightness).
With 13 scenes and some dawdling set changes, the play feels choppy enough to make one wonder whether Simon hasn't given us about four quickie scenes too many. Taken as a group of snapshots, however, the scenic progression evokes the laughable fickleness of romantic love. Simon's most creative idea in this play is the "chorus" of three alter egos for each writer. Add Jane Lambert's coordinated costuming, and every entrance of these characters became cause for laughter. Whether in bathrobes or hospital jonnies, these choristers mimic or reflect the quirks of their owners. Sonia explains that "the girls" are parts of herself functioning as muses to refine her lyrics (they also do odd jobs, like moving Sonia's house plants into her new residence). After hearing this, Vernon finds he has three boys of his own, who offer harmonies around the piano.
As the couple, McNerney is more petulant than pushy; Handler seems more inaccessible than neurotic. If the original cast starred Lucie Arnaz and Robert Klein, this is more like Bernadette Peters and Clint Eastwood. And since Vernon seems to tolerate rather than cower from Sonia's strident ways, it takes a long time to start rooting for this match-up. Handler and McNerney most readily project the couple's magical bond when rendering the songs they wrote together, for example, "I Still Believe in Love," which comes back later as a hit by Johnny Mathis. Both singers (though challenged by Hamlisch's low notes) have appealing, powerful voices. Finally, the value of the relationship begins to extrude through negative space, that is, after a breakup. Maybe that paradoxical fact of love is the song this show is playing.
They're Playing Our Song, a California Theatre Center production, plays, in repertory, Saturday (June 16, 29 and July 6, 13 and 27) at 8pm and Sunday (June 24 and July 15 at 2pm) at the Sunnyvale Community Center, 550 E. Remington Dr., Sunnyvale. Tickets are $21–$25. (408.720.0873)
Send a letter to the editor about this story.