June 13-19, 2007
home | metro silicon valley index | music & nightlife | essay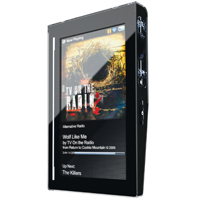 TV on the radio? More like Internet radio in the pocket.
Slacking Off
A new Internet music service won't kill the iPod, but XM should fear it
By Mike Connor
NOT LONG ago, my computer crashed—and took my entire 10,000-song music library down with it. Hmph.
Luckily, I had a backup—my iPod. Using free software called Senuti (that's "iTunes" backward) and a Mac laptop, I was able to restore all the songs on my iPod onto my new PC. Unfortunately, the software wouldn't restore the 20-plus playlists I had built up over the years, leaving me with the momentous and monotonous task of sorting out all my music again. Good times.
While I'm procrastinating, I've been checking out other ways to listen to music. I came across another great use for all that excess bandwidth you probably don't have: www.slacker.com.
Basically it's personalized Internet radio a la Last.FM or Pandora, but with some minor functional differences (it populates your "stations" based on a professionally constructed relational database and personal preferences rather than social networks or music DNA) and one major one: you can take it to go on a sleek new device.
The Slacker device is next in the line of "iPod killers"—devices that will supposedly unseat the iPod from its throne at the top of the heap, though few succeed in delivering so much as a minor flesh wound. The folks behind Slacker, including ex–Musicmatch CEO Dennis Mudd, Ex–Rio CEO Jim Cady, ex–iRiver CEO Jonathan Sasse and XM co-founder Lon Levin, are banking on the fact that people like the minimal effort required by radio (turn on the radio, select a station and listen) and don't want to spend time and money building up a digital music library and playlists.
The free service will feature occasional ads and a limited number of song skips, but a $7.50 monthly subscription does away with both and let you save tracks in your library. The $150 portable device is slated for release this month. It's got a nice big screen, plays MP3, WMV and AAC files, and easily refreshes itself via USB or WiFi connection. It is not for persnickety music snobs—album purists, catalog completionists, obsessive mix CD-makers, etc.—all of whom constitute a lovable and considerable block of the music-listening masses. Instead, it's aimed directly at radio listeners and XM subscribers who want a little more control but no extra work—hence the name.
Slacker functions like a radio station, coming preloaded with a deep library and virtual stations that, over time, adapt to your preferences when you start banning the songs you don't want to hear and flagging your favorites. You can also build your own stations and populate them with the artists you want, and select the relative level of obscurity of the songs the player should choose. But the real strength of Slacker is its ability to automatically populate stations around a particular band.
Not happy with the hip-slop I was getting from the hip-hop station, I made it build a new one around A Tribe Called Quest, which it populated with PM Dawn, Beastie Boys, the Roots, Pharcyde, Gang Starr, the Fugees, Digable Planets and a bunch more. Not bad.
A station built around Pavement included Yo La Tengo, Beat Happening, Liz Phair, Modest Mouse, Beck, Sparklehorse, Ween, Rogue Wave, Elliot Smith, the Palace Brothers (!) and the Flaming Lips. Impressive—and after a few days of use, the stations just seem to get better.
I've been listening to it all on my stereo at home via Apple's Airport Express, a wireless router that enables you to stream your iTunes library to your home stereo. Rogue Amoeba's "Airfoil" software opens the door to almost any other application to stream audio through Airtunes, simply and cheaply ($25). The resulting audio quality won't impress audiophiles, but it's more than sufficient for anyone else.
Would it be fun to take it all on the road? Sure. But even though the Slacker device also functions as an MP3 player, I'll probably pass on it. After all, I've already got an iPod and over 10,000 songs to fill it with—if I ever get around to rebuilding those playlists.
Send a letter to the editor about this story.