June 14-20, 2006
home | metro silicon valley index | silicon valley restaurants | review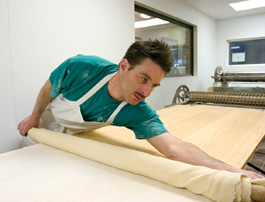 Photograph by Felipe Buitrago
Rolling in Dough: Daryle Lupretta still uses the antique ravioli maker at Lupretta's.
Saratoga Unchained
Residents rallied to block a Subway and support mom-and-pop shops. Lupretta's is the kind of place they were fighting for.
By Stett Holbrook
BACK in April, the Saratoga City Council voted against an application to open a Subway sandwich shop in the city's downtown. The council cited the abundance of sandwich shops already in town and the parking problems the new eatery could create. Among the many people who came out to the City Council meeting to speak against the sandwich shop there was a feeling that a chain restaurant simply didn't belong in the city's quiet downtown.
Subway's opponents said the Saratoga "village," as the downtown corridor along Big Basin Way is known by boosters, is a place for independently owned mom-and-pop shops and restaurants, not national chain stores. (Subway is a national restaurant chain, but the applicant lives in Saratoga.)
Lupretta's Delicatessen must be the kind of mom-and-pop shop they were thinking about. Pop is owner Daryle Lupretta. Mom is his mom, who is famous for her cuccidati, a fruit and nut-based cookie she makes at Christmastime. Other members of Lupretta's family help out at the deli as well.
Lupretta's started in San Jose on Stevens Creek Boulevard in 1994. Daryle Lupretta bought the deli from the Pianto family. They had been making ravioli and other Italian-American classics since 1954. In addition to the deli space and an antique but highly functional ravioli maker, Lupretta got all the Piantos' recipes.
When it came time to relocate, Lupretta said he lucked into his current space in Saratoga. It's a bright space with wood floors, a big vineyard mural on the wall and those red-and-white checkered tablecloths you find in all Italian-American eateries. The ample parking, small-town feel and support of fellow merchants makes it a great location, he says."I just love it here."
The mainstay of Lupretta's business is sandwiches. The meatball sandwich ($5.35) is highly recommended. But what makes the deli special is the ravioli. There are only a few places left in the Bay Area that hand-make their ravioli and Lupretta's is one. The hulking ravioli press dates back to 1908. It was once operated with a foot pedal, but got an electric upgrade in the 1950s. The heavy metal gears and big rollers make it look something like a Gutenberg printing press.
Lupretta makes beef and cheese ravioli (box of 100 for $12). The beef recipe includes Swiss chard, which gives the finely ground filling more depth. If you're ordering them to go, order them raw instead of cooked. To make them at home, break apart the raviolis, shake off the excess flour and drop into a big pot of boiling water. Be sure not to overcook them. As soon as they float to the top they're done. I didn't separate mine and just dumped in one big sheet of raviolis. As a result they cooked too long and turned out kind of gummy.
On a second try, I cooked them as described above and they were great; slippery, translucent bundles of meat wrapped in a light pasta skin. Lupretta's meat sauce is the perfect accompaniment. If you could put the essence of Italian-American food in a jar, this would be it. The sauce is a deep brick red and studded with bits of ground beef. It's just the right consistency to cloak the ravioli, ensuring each bite is coated in sauce.
My favorite dish, however, is the meatballs ($1.50 each). Almost as big as cue balls, the meatballs are light and break apart easily and come in a great marinara sauce. Served over a mound of pappardelle or spaghetti, they're great.
I'd heard good things about the pizza, but found it disappointing. My 12-inch cheese pie ($10.95) was heavy and doughy and lacked the light, crispy but springy crust that makes pizza so good. I've had better frozen pizzas.
The cannoli ($3.25 each) made up for it. The crisp, airy pastry shell is stuffed with rich, grainy-textured creamy ricotta filling. But I could do without the maraschino cherries stuck in either end.
Running a family-owned business in pricey Saratoga isn't easy. The building that houses Lupretta's recently changed hands and the new landlord upped Lupretta's rent. He's trying to devise new ways to boost sales, like offering dinner entrees such as chicken cacciatore and chicken Parmesan.
So it's time to put your money where your mouth is, Saratoga. If you want to keep the chain stores at bay and help family-run, independently owned business like Lupretta's stay afloat, you'd better order some more ravioli.
But Lupretta says he's not going anywhere. "They're going to have to take me out in a black car."
---
Lupretta's Delicatessen
Address: 14480 Big Basin Way, Saratoga.
Phone: 408.484.0004.
Hours: 9:30am-7pm Mon-Fri and 9:30am-6pm Sat.
Price Range: $5-$12.
Send a letter to the editor about this story.