June 14-20, 2006
home | metro silicon valley index | music & nightlife | interview/preview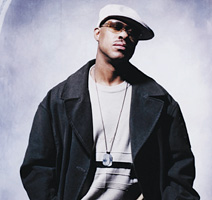 Who's Going to Take the Weight?: Ask Guru, whose yoked body is in line with his new approach to music.
A Starr Is Reborn
Guru honors the past in order to move forward
By Spence D.
ON "Won't Get Fooled Again," the Who's Roger Daltrey sang, "Meet the new boss, same as the old boss"—another way of saying the more things change, the more they stay the same. To wit, meet the new Guru, same as the old Guru. At least on the surface. the former Gang Starr frontman appears to be the same cat. Scratch the surface, and you'll quickly see two things that have changed about Guru that at first don't outwardly appear to have anything to do with his music.
Upon closer examination, one can see that they have a direct impact on his life and the music he's now making. The first is that he's yoked. We're talking jail-yard ripped. That comes from his new regimen of hitting the gym before hitting the studio. The second is that he's sober. The booze has been removed from his life, allowing for increased mental clarity.
"It was nothing medical, it was just that time," Guru says of giving up the liquor. "For me, I was frustrated with so many things, major labels, the internal workings of Gang Starr, I was just like 'Ugh!' I was at my wit's ends pretty much and the drinking was medicating that. And you know how that does? It doesn't make things go away, it amplifies them."
That's where DJ Solar stepped in. He agreed to team up with Guru and help write the next chapter of the rapper's career only if he gave up the bottle. Five years later, they've toured the world, released a solo album—Version 7.0: The Street Scriptures—that cracked the Billboard chart, and have plans for a new Jazzmatazz project.
To say that the specter of Gang Starr still hovers over Guru would be an understatement. Keith Elam (a.k.a. Guru) and Chris Martin (a.k.a. DJ Premier) went down as one of the most consistent and true-to-the-game rap duos ever to grace a microphone and two turntables. The fact that the two dissolved their partnership under somewhat acrimonious circumstances but more or less managed to keep whatever beef they may have harbored between them out of the press is further testament to their class act. Gang Starr is now a historical footnote in the continuing history of hip-hop culture.
The lingering effect of Gang Starr, even to this day, is still readily apparent. For instance, when Guru, along with his new DJ/producer/hype man Solar, performed last July at the Agenda Lounge, the duo liberally sprinkled Gang Starr classics into their live show, even though Guru's solo album had more than its fair share of material to fill up a set. It's equally safe to say that the majority of the crowd wasn't there to hear the new material, either.
Beyond this, however, the sound of Guru's solo venture is an awful lot like vintage Gang Starr. Guru has one of the most distinctive voices in all of rap history—his signature calm and wild monotone style, to paraphrase his own description of his voice. Astute fans, however, will be able to detect slight differences between the work of Guru and Solar and that of Guru and Premier. But the changes are subtle to the naked ear. For example, one song in particular, "Feed the Hungry," has a sociopolitical message. Guru has always commented on topical issues (think "Just to Get a Rep"), but he has never really been considered a political rapper in the same way that Chuck D. or KRS-One has been.
"I wouldn't even say that I'm a political rapper," agrees Guru. "I would say with this album that I am doing things that I didn't do before. New things. That's what it's about."
More to the point, this isn't about revisiting Gang Starr. "Another element that makes it different is that it's our own label," Guru says referring to the 7 Grand Records venture he started with Solar. "We're CEOs of a new movement. So it's not just a solo Guru album, it's Guru as a CEO. It's Guru making serious moves." He pauses for second before adding, "I've never been one to be worried about what the rest of the industry is doing, anyway."
Yet there's still the matter of the past. "That whole thing about the past and Gang Starr and this and that? That's been dealt with. That was our immediate challenge. But that barrier is gone. As far as the touring we've done in the States and overseas, people get it now. It's a new order, very different from the Gang Starr order."
One of the most obvious ways that Guru's solo career is different from the Gang Starr days is the size of the venues he and Solar have been performing at. To call them small and intimate would be an understatement. In fact, it's almost too easy to dismiss Guru's exclamation that he's making serious moves. But Guru doesn't mind the smallness of the stages, as long as he's got a rapt crowd.
"I feel the greatest I've ever felt in terms of being in control of my creativity. That's how all of this came about, out of frustration with major labels and cats who ain't from the street, ain't from the hip-hop culture, making decisions about my creativity throughout all that Gang Starr stuff and some of the Jazzmatazz stuff, too."
Sure, the crowds may be smaller, but they're no less fervent and supportive. Besides, rap has always been more charged, more energetic, when crammed into a small area, the masses of people sweat-soaked and grinding against one another as the bass goes boom and the needle skips across the obsidian gleam of the record. When he and Premier were starting out as Gang Starr they scrapped and scraped to get their music heard, playing the small venues and eventually working their way up. Now with Solar, Guru is repeating the process, starting over with a clean slate and scrapping and scraping his way back. It's a long way from where he was at the peak of Gang Starr's success, but the simple act of taking it back to the streets is the very foundation that rap music was initially built upon. What could be more real than that?
Guru, with DJ Solar and Doo Wop, plays Saturday, June 17, at 10pm at Agenda Lounge, 399 S. First St., San Jose. Tickets are $10 and available through Ticketweb. More information at 408.380.3042.
Send a letter to the editor about this story.