June 14-20, 2006
home | metro silicon valley index | the arts | stage | review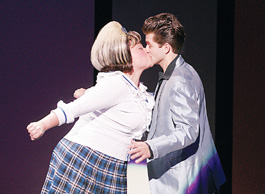 Photograph by Chris Bennion
Bump and Buss: Keala Settle gives Aaron Tveit a kiss in 'Hairspray.'
Let Us Spray
American Musical Theatre of San Jose piles high the fun with 'Hairspray'
By Marianne Messina
THE PRODUCTION OF Hairspray currently touring through town, thanks to American Musical Theatre of San Jose, gives off a party atmosphere best summed up as "Wow, are these people having fun." At one point, J.P. Dougherty gets Jim J. Bullock to break up with laughter. It's a husband-wife love duet (done as a '60s-era buddy number) between Wilbur (Bullock) and Edna (Dougherty in drag, a role played on Broadway by Harvey Fierstein). As each responds with a heartwarming "You're timeless to me" to lines such as "I'm like a half-filled book of Green Stamps beyond redemption," Edna bends over and wiggles her wide hips at her husband. Bullock lost it, and the audience came to a cheering roar. And when the unlikely couple—a not-so-successful inventor nerd (with Jerry Lewis plastered down hair and thick, cock-eyed glasses) and a dowdy, plus-sized laundress—switch vocal parts so that Edna sings bass and Wilbur sings soprano, another laugh break erupted.
You also can't help but fall in love with Keala Settle's Tracy, the couple's "chubby" teen daughter. Settle gives the type of happy-to-be-here performance you would expect from someone whose credit bio is 70 percent thank-yous. From the moment she comes out in her short skirt and sneakers singing "Good Morning, Baltimore" (you gotta be some kind of Pollyanna to get nostalgic over Baltimore), the audience is pulling for her, however high her hair. Ratted with hairspray, it goes through several incarnations of the hip '60s teen styling you might see on a dance-party TV show like WZZT's Corny Collins Show.
Tracy, who's far from "the standard of beauty that must be upheld," aspires to be on Collins' show with the debutantes in blonde ringlets and flip-haired cheerleaders, even though her perma-housecoated mom tells her she doesn't have a prayer. But when the visionary Tracy lands in detention with the black kids, she gets the encouragement, not to mention the dancing style, she needs to make her breakthrough. Lucky for her, Corny Collins (Paul McQuillan) is progressive. Tracy no sooner wins her way onto the 1962 TV show than she wants to integrate it, championing a rally to picket the show with the kids from Motormouth Maybelle's Record Shop. (Sung by Charlotte Crossley, former member of the Harlettes, the rhyme-talking Motormouth Maybelle is an audience favorite). The ensuing police riot ends Act 1. In the opening number of Act 2, the rioting women are in jail singing "The Big Dollhouse" until all but Tracy get out on bail. (Where else does a girl go when she's become a star, overthrown the snotty teen queen and won dream boy Link Larkin (Aaron Tveit) for her very own, all in Act 1?)
After that, the story hangs together pretty loosely—something about winning a contest—and the music and dancing dominate the show. Marc Shaiman's score echoes a myriad songs and styles from the era, with lightly nudging humor. And the production, from sets to orchestra to vocals to choreography, is so vital and clean, you can get nostalgic without ever having been there. Costume designer William Ivey Long has cranked out splendor in everything from fringe and sequined Motown stage costuming to matching mother-daughter plus-size formal wear. And hair designer Paul Huntley has created a menagerie of mile-high beehives, stiff Grecian curls and other rat's-nest wonders.
All through the show, the stage area morphs before our eyes as bits of colorful scenery drop or slide in from all angles, and we are rushed from record shop to city neighborhood to gym class to jail (an eclectic, resourceful approach by scenic designer David Rockwell). Curtain call for this show is more like a giant cast party with characters interacting, confetti streamers flying and the audience on its feet loudly celebrating along.
Hairspray, presented by American Musical Theatre of San Jose, plays Tuesday-Friday at 8pm, Saturday at 2 and 8pm and Sunday at 1 and 6:30pm through June 18 at the San Jose Center for the Performing Arts, 255 Almaden Blvd. San Jose. Tickets are $46-$73. (408.453.7108)
Send a letter to the editor about this story.