June 14-20, 2006
home | metro silicon valley index | movies | current reviews | film review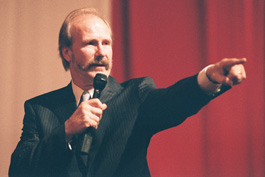 Papa Does Preach: William Hurt delivers the gospel in 'The King.'
Texas Takedown
'The King' disses the Bible Belt
By Richard von Busack
IN CORPUS CHRISTI, TEXAS, a swabby just out of the Navy materializes. His name is Elvis (Gael García Bernal). He looks up his father, who is now a very respectable man: Pastor David Sandow (William Hurt), who is making as good a living off preaching, just as the Rev. Camden does in 7th Heaven. Elvis' return infuriates the father, but it piques the interest of his daughter, Malerie (Pell James). Not realizing that her own half-brother is seducing her, she falls into Elvis' arms. Her brother, Paul (Paul Dano), a Christian activist and graduating senior, discovers the liaison but is also unaware of the incest behind it. In a moment that's meant to be primal tragedy, Elvis crosses a line from which he cannot retreat.
Having seen director James Marsh's first-rate 1999 docudrama Wisconsin Death Trip, it's easy to call him one of the best and the brightest of the Malickians. Working from an excellent book by Michael Lesy, this English director brought a memorable approach to chronicling the old, weird America. Unfortunately, here he has a script by a true deep-disher, Milo Addica, of Monster's Ball, a writer with a seriously speculative idea of how life in the South is lived. Addica makes sure we take in the brutality of Sandow's longbow hunting (what's he doing going after deer in the summer?).
Hurt, with gun-nut muttonchops, is meant to be a selfish hypocrite; his wife, played by Laura Harring—yes, the Rita Hayworth figure from Mulholland Dr.—is so drab as to be unrecognizable. Toughing out the film's most seriously underwritten part, Harring is reduced to a scene of gardening in a purple negligee. It's one of those "Look at me, damn it" moments that occur in every actress's life. The stereotypes are fixed in a thick amber of symbolism, and The King diminishes in comparison to the Belgian film The Son, with its similar but more likely scenario of the testing of the limits Christian tolerance.
In Marsh's favor, Dano and James look and act like brother and sister. Dano, who was in L.I.E., brings enough out of the old CSNY song "Helplessly Hoping" to make you miss him. He needs all of his charisma to bring some life to a straitlaced role. The King shows sex but lacks its drive: Ms. James is meant to look like a cool vanilla drink in the Gulf Coast heat, but she never really heats up. Even when Bernal's Elvis is giving her head, she seems to be waiting to be cued for a line. She goes along with Elvis until she doesn't, and that's the movie right there.
Imagine a Moroccan-bound, gilt-paged gift edition of the collected works of Jim Thompson, and something like The King comes to mind; a self-conscious pulp-gothic set in Texas, intended for the upper-class trade. The film gives it to the kind of people that art-house audiences hate: God pesterers, deer hunters, Intelligent Design advocates and Texans in general. The camera keeps coasting pass a refinery: "Did you see how ugly that is? Wait, let's look at it again." Berkeley is where I caught the film, a place where they chisel the W's off their computer boards. Even an audience ready to shudder at the cruelty, selfishness and ignorance of the USA shrugged the movie off. After you've seen the nation belabored by experts, this wasn't even a Rolfing.

The King (R; 105 min.), directed by James Marsh, written by Milo Addica and Marsh, photographed by Eigil Bryld and starring Gael García Bernal, William Hurt, Pallo Dano and Pell James, opens June 16.
Send a letter to the editor about this story.