June 14-20, 2006
home | metro silicon valley index | movies | current reviews | film review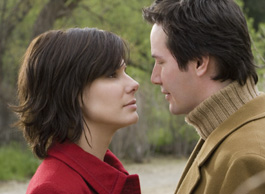 Photograph by Peter Sorel
It Must Be the Turtleneck: Sandra Bullock falls through time for Keanu Reeves's amazing sweater in 'The Lake House.'
Time Share
Science fiction takes a back seat to sheer, delicate romance in 'The Lake House'
By Jeffrey M. Anderson
TWICE DURING the new film The Lake House, characters watch Alfred Hitchcock's Notorious (1946) on television, specifically the famous "kissing" scene. Unable to shoot a long kiss for more than a few seconds, Hitchcock skirted censors by showing dozens of little kisses between Ingrid Bergman and Cary Grant. His camera floats around their nuzzling faces, close enough to almost feel their breath, and he wound up with one of the steamiest scenes of the 1940s. It's not for nothing that director Alejandro Agresti (Valentin) chose this scene. In Notorious, the chemistry between the two heroes counts above all; even if the plot doesn't always make sense, the emotional energy still grips. Agresti probably knows that sci-fi fans will find fault with some of the time-travel aspects in The Lake House, but he doesn't care. He has Keanu Reeves and Sandra Bullock, both at the top of their game and together again after their highly successful turn in Speed 12 summers ago.
Using a light foundation gently sprinkled with delicate songs (Nick Drake turns up twice), Agresti coaxes quiet, passionate performances from both players. In one of their few scenes together, he lets Bullock and Reeves talk together in real time in an extended two-shot; it's not a technical showoff, but rather an appreciation of the powerful chemistry at work here. Our leads rarely appear onscreen at the same time because, in this particular story—adapted from a 2000 Korean film—they are separated in time by two years. When Kate (Bullock) moves out of a beautiful, if impractical, all-glass house at the edge of a lake, she leaves a forwarding address for the next owner. In the note, she apologizes for the paw prints on the walkway; they were there when she moved in. But the paw prints don't appear until Alex (Reeves) decides to spruce up the place and a stray mutt tracks through his paint.
That's an oddity, but things get weirder. After writing back and forth, leaving notes in the lake house's mailbox and flipping up the red flag, the couple realize that Alex is living in 2004, and Kate in 2006. They quickly fall in love but are unable to meet. The big question that comes up is simply: Why doesn't Alex merely wait two years and drop in on Kate? The film comes up with certain half-considered excuses, mainly that Kate prefers the safety of the distance rather than an actual meat-and-potatoes relationship. But it's a problem, nonetheless. (A much smaller problem is this: What if the postman accidentally picks up a note before it can make its time-trip?)
Thankfully, Agresti has effectively skirted around such hard logic issues with his velvety presentation. He has hired Pulitzer Prize-winning playwright David Auburn (Proof) for dialogue purposes and cinematographer Alar Kivilo (A Simple Plan) to revel in Chicago-area architecture, providing lots of air-and-steel backdrops. Additionally, Christopher Plummer and Shohreh Aghdashloo turn in a matched pair of delicious, quirky supporting roles, far more fleshed out than the usual romance movie fluff. The Lake House may not be a great time-travel movie, but like the kissing scene in Notorious, it can be treasured for other reasons.

The Lake House (PG; 98 min.), directed by Alejandro Agresti, written by David Auburn, based on the Korean film 'Siworae,' photographed by Alar Kivilo and starring Keanu Reeves and Sandra Bullock, opens June 16.
Send a letter to the editor about this story.