06.17.09
home | metro silicon valley index | columns | silicon alleys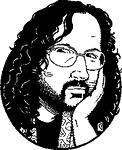 The Cambrian Era
Silicon Alleys remembers the sweet days of strip-mall heaven in Cambrian Park
By Gary Singh
I WAS recently invited back to one of the precincts that defined a good portion of my youth—those retail monstrosities occupying the legendary intersection of Camden and Hillsdale in Cambrian Park. Local sign maker Jere Avila has just given the hookah room at Blunt's Tobacco Shop a new intergalactic paint job, which is best viewed in 3-D using ChromaDepth® glasses. I advise you to check it out. It'll take you to a different planet.
Of course, returning to that area jarred some childhood memories, which forced me to do some soul-searching. You see, 25 years ago, this same beloved strip mall housed a defunct porno theater, the Cambrian Twin, plus a weird place called the Grecian Health Spa and one of the first Liquor Barn franchises, a pre-BevMo storehouse specializing in potent potables from around the globe.
In the mid-'80s, the theater reopened as a 75-cent nonporno establishment called the Hillsdale Twin and soon became the stomping ground for punk rockers, thrash-metal dudes or anybody beyond the pale of mainstream. If you grew up in that part of town, there was absolutely nothing else to do, so we just went to the theater and saw Re-Animator time and time again. Next door sat a Chinese fast-food place left over from the porno theater's tenure, aptly titled Fook Hing.
Even better was when Liquor Barn first opened. I remember walking through the aisles as a teenager, often staring for lengths of time at the varieties of booze from all over the world—the rums, the whiskeys, the beers, the wine, everything. It felt like an exotic, far -away place I had never visited—(all they sell is booze!)—and I opened up like a flower whenever I walked into that store. The entire world was there to greet me. The missing exotic half of myself instantly emerged. Although BevMo franchises eventually sprouted up across the landscape like weeds, nothing can replace the pure exoticism of the original Liquor Barn stores. Cambrian Park in the mid-'80s was textbook suburban-wasteland America, and for me Liquor Barn was a hall pass to get out.
Everything on that stretch of Camden/Hillsdale just sort of blended together like raw sewage into one gigantic strip mall. Cask & Flask Liquors was then and still is a fixture at Camden and Leigh. While in high school, I worked there as a stock boy—one of those hurry-up-and-wait jobs where you replenished shelves for 45 minutes and then did absolutely nothing for an hour. Stock, dust, sweep, sit, walk around, vegetate, fidget and then repeat—drudgery the likes of which would drive even the most assiduous employee completely bonkers. Every stock boy who worked there pilfered bottles at one time or another.
An old drunk lived down the street, and it was my job to deliver a fifth of Canadian Mist to the guy at least twice a week. He was a regular, so they didn't mind making house calls. He'd phone for another bottle, and I'd bag it up and tromp down Leigh Avenue to his home. He would then give me a $20 tip. That was my job at 17: running booze to an alcoholic down the street.
On a sweeter note, by far what defined the childhoods of many was Gemco—the quintessential pre-'90s one-stop discount department store, located where Target is now. Just like Costco, Gemco was membership-based; you had to flash your card upon strolling through the entryway. Kids were required to enter with their parents, and just about every aspiring teenage prankster alive tried to sneak in by randomly following behind an adult and pretending to be that person's kid. It was easy.
Gemco had it all: A dive snack bar, a sporting-goods section, electronics, appliances, a watch repairman older than dirt, a pharmacy with a separate entrance and a book section in the front corner, which is where I would usually hang out while my parents were shopping. Many folks would just dump their kids in the snack bar, but I always preferred the book section.
I thank Mr. Avila for reconnecting me with such convoluted times, and I especially want to thank all my friends on Facebook who chimed in with their own twisted memories of the Hillsdale Twin.
Contact Gary Singh or send a letter to the editor about this story.