06.17.09
home | metro silicon valley index | music & nightlife | band review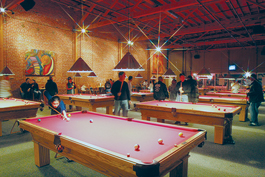 THAT'S OUR CUE: The players at South First Billiards know where to stick it.
Inside the Feltway
South First Billiards, Cinebar and Dive Bar provide havens for pool and billiards lovers
By Colleen Watson
THERE'S something about the clack of billiards balls that is just downright satisfying. Knocking a difficult shot into a pocket gives the feeling of accomplishment; banking an impossible shot gives one the right to boast for the rest of the night, even if the game is lost. And South First Billiards, a downtown institution, is one of the best places to try out one's inner pool shark. OK, pool is great because I can always beat my friend and therefore win a free beer.
But the atmosphere has to be laid-back and fun (I don't want both my thumbs broken just because I sank the three ball off two rails) and South First Billiards delivers. The place is clean, and it's usually easy to find an open table. You can see guys by themselves practicing harder shots as well as young couples that have no clue what they are doing except having a good time. I like pool a bit better than billiards, as I can usually get a free drink out of it. For pool, I recommend Cinebar on weeknights and Dive Bar for free pool on Sundays.
Silicon Valley has quite a few billiards halls as well as bars that have pool tables. Some have a flat rate for the hour, others are 75 cents a game and a very few are free; of course you have to win to keep going but if you're good enough you can play for hours on less than a dollar.
Cinebar
69 E. San Fernando St, San Jose; 408.292.9562
Dive Bar
78 E. Santa Clara St, San Jose; 408.288.5252
South First Billiards
420 S. First St, San Jose; 408.294.7800
Send a letter to the editor about this story.