06.17.09
home | metro silicon valley index | music & nightlife | band review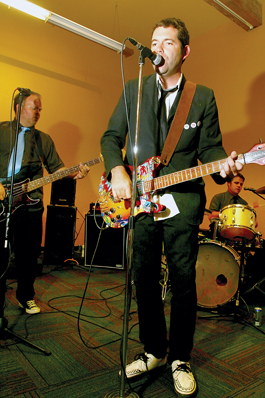 JAM NIGHT: Talky Tina tore it up at Metro during South First Fridays.
Talkin' 'Bout Tina
By Steve Palopoli
DAVE MILLER (full disclose, that's Dave Miller of Metro) has been called a "dirty mod" more than once in his life. It's not that the San Jose rock fixture enjoys, say, Japanese tentacle porn—well, not any more than the rest of us, anyway. It's just that his bands have generally had a slightly grittier take on the Britannia sound and image than fans of Quadrophenia may be used to. With his newest band, Talky Tina, he's found the right balance of English retro (this group would do a great Jam cover) and American indie, with a nice touch of classic soul. Bassist Chris Smith and drummer Dave Conrad hold down a tight bottom, and guitarist Greg Croak helps out with Miller's trademark harmonies. Suicidal Barfly and Rouge Apostles open.
TALKY TINA and SUICIDAL BARFLY play Friday (June 19) at 8pm at South First Billiards, 420 S. First St., San Jose. The show is free. (408.294.7800)
Send a letter to the editor about this story.