06.17.09
home | metro silicon valley index | silicon valley restaurants | review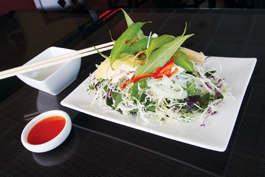 Photograph by Felipe Buitrago
CHICKEN SUPREME: The goi ga salad with mint is a light and tasty take on chicken.
A Chicken On Every Plate
San Jose's new Vietnamese restaurant Com Ga Nam An flaps its wings with stellar chicken dishes
By Stett Holbrook
WHEN THE Republicans promised "a chicken in every pot" if their man Herbert Hoover was elected in 1928, they could not have foreseen the clever intro the phrase would give me for my review. But a chicken in every pot is indeed what you get at San Jose's Com Ga Nam An. Not only in every pot but in every bowl and on every plate. Chicken is all they serve. It is every a chicken lover's restaurant, and there's a lot to love.
The restaurant opened in February and took over the spot formerly occupied by Quang Da, one of Silicon Valley's few central Vietnamese restaurants. I was sorry to see it go, but Com Ga Nam An is good addition to this stretch of Vietnamese-restaurant-dense East Santa Clara Street. The new place now has a brighter and cheerier look. Like the menu, the dining room is clean and spare. (Confusingly, there is a Com Ga An Nam on Story Road, but it's not related.)
Like Quang Da before it, Com Ga Nam An specializes. Its specialty happens to be chicken. I'm tired of encyclopedic Vietnamese restaurant menus whose number of dishes approach triple digits. It can take a half-dozen visits to figure out what's good. I much prefer places that stake out a niche and go for it.
Com Ga Nam An's self-proclaimed specialty is Hainanese chicken rice. (Com ga means chicken rice in Vietnamese). The dish originated on the southern Chinese island of Hainan and is popular throughout Southeast Asia. It's very simple: steamed chicken hacked into a few pieces, a mound of steamed rice (often enriched with chicken broth or chicken fat), some sliced cucumbers and other raw vegetables, and a few dipping sauces. This is chicken stripped down to its essence, but I confess I find it hard to get excited about the concept. It's just steamed chicken and rice.
Nam An's version ($8.50) is pretty good, but it's not what I would order. The best part for me was the rice. It is steamed in chicken broth, which imparts a rich, pleasantly oily quality to the rice. The bowl of light chicken broth served with it is good, too.
What I would order, however, is just about everything else on the short menu. After spring rolls, pho is probably the best-known Vietnamese dish. I'm a big fan of the beef noodle soup, but more often than not I would take instead a bowl of pho ga—chicken noodle soup. It's lighter and leaves me feeling satisfied and nourished. Nam An's version is stellar ($7.50). Keeping with its minimalist aesthetic, the broth is light, clean and sparkling fresh. The flat noodles are a few sizes smaller than linguine and reportedly delivered fresh daily. They keep their snap and vigor throughout the meal. As for the chicken, it's available with or without skin. Go for the skin. You don't have to eat it, but the fat underneath melts and enriches the already delicious broth. A squeeze of lime and a few pinches of fresh herbs and you've got a beautiful bowl of soup.
Pho ga is a fairly common dish, but mi ga (egg noodle chicken soup, $7.50) is less so. It's made with the same broth base as pho ga but with the substitution of thin, vermicellilike egg noodles. It's a subtle difference, but equally good.
Com ga nuong xa ot (grilled lemon-grass chicken with rice, $7.95) is a winner, too. You'll find this dish at most Vietnamese restaurants, but it's a standout here. The boneless thigh meat is juicy and tender and encrusted with an aromatic, tangy crust of lemon grass. It's even better dipped into the restaurant's magic red sauce. Language is a bit of a barrier here, and I couldn't get the name of the pale red condiment, so I'll just call it magic red sauce. I wish I could buy a bottle of it. It tastes like Sriracha with a little lime juice, sugar and rice vinegar added in. It's sour, sweet and spicy all at once. It's just great.
So too is the tangy green-onion sauce served with the com ga. Then again, I really like Com Ga Nam An's version of nuoc cham, the ubiquitous Vietnamese fish sauce/lime juice dipping sauce. Only here it's made with the addition of soy sauce or maybe black vinegar. They wouldn't tell me. Whatever is in it, it's good.
Nam An serves two simple but good salads. Goi ga ($9.50) is the lighter of the two and my favorite. Thinly shredded white cabbage is tossed with onion, mint leaves and chunks of steamed chicken. But it's the electric, lime-based dressing the makes this salad come to life. Goi ga xe phay ($12.95) is heavier on the chicken, pieces pulled off the whole bird and sprinkled with fresh Vietnamese coriander, red bell pepper slices and onions. The tangy dressing is different on this one and not quite as good as the ethereal lime on the goi ga.
I said Nam An only serves chicken. That's not quite true. The restaurant does offer some beverages, wine and beer included. Mung bean with pandan leaf is a creamy, refreshing glass of green goodness ($2.75). I liked the fresh soy milk ($2.50), too. But the real standout is the iced coffee (café sua, $2.95). It's sweet, intensely coffee-flavored and fiendishly caffeinated. The chicken and wicked iced coffee will call me back soon. Go, Hoover!
---
Com Ga Nam An
Address: 348 E. Santa Clara St., San Jose.
Phone: 408.297.3402.
Hours: 10am–9pm Mon–Fri and 9am–9pm Sat–Sun.
Cuisine: Vietnamese.
Price Range: $7.50–$12.95.
Send a letter to the editor about this story.