06.17.09
home | metro silicon valley index | movies | current reviews | dvd review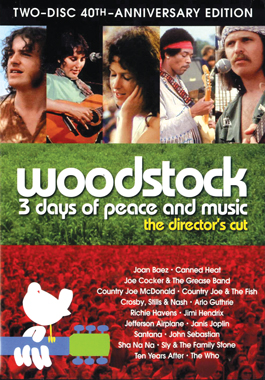 Woodstock: 3 Days of Peace and Music: The Director's Cut
Two discs; Warner Home Video; $24.98
By Michael S. Gant
Now that we have lived through 1967 Summer of Love retrospectives and 1968 Summer of Assassinations and Riots retrospectives, we must confront the 1969 Summer of Giant Music Festival retrospectives with the arrival of a new DVD of Woodstock. Can we at last officially declare '60s nostalgia over? (And I say this as someone who was alive and functioning, sort of, during the period.) Woodstock the concert, August 1969 in Bethel, N.Y., and Woodstock the movie (1970, directed by Michael Wadleigh and co-edited by Martin Scorsese) capture the heady craziness and contingent nonsense of a time poised for change (little did we know that 30 years of rabid conservatism were the price to be paid for a few years of innocent hedonism). The film's sociological context, found in the many interviews with hippies and stoners, seems draggy so many years later. A few moments—especially the yoga breathing class—induce hindsight cringes. Did we really want to live in a world in which Wavy Gravy was constantly haranguing us? The sheer scale of the event still impresses; the sequence of the storm passing over that makeshift stage, teetering scaffolds and seemingly endless crowd, followed by the joyous mud-sliding free-for-all, says something about how people of goodwill can create an instant community and make it work with only minor problems. But it is the music that remains the real draw, even though some of the performances fall short of one's hazy memory. Why was Sha Na Na even at Woodstock, for instance? Couldn't somebody have told Alvin Lee of Ten Years After to cut it short? CSN were whiny and annoying without Y. On the other hand, Canned Heat, Country Joe and the Fish, Janis Joplin and Richie Havens all pass the test of time. The Who deliver their trademark powerhouse sound, but are undercut by the film's frenetic overuse of split-screen. The real treat comes last, with the extended jam by Jimi Hendrix that starts with "Voodoo Chile," segues into a brilliant deconstruction of "The Star-Spangled Banner," explodes into "Purple Haze" and then leads an expedition into uncharted rock/free-jazz fusion riffing. Seeing this amazing performance (aided by the camera's welcome concentration on Hendrix's fingers at work without gimmicky distractions) makes me realize again how much musical potential was lost with Hendrix's death just a year later. This two-disc set contains the 228-minute director's cut with additional performances; the release version was 184 minutes. Some extra performances are included—and, with some controversy, augmented in rerecording sessions—but the real finds, among them the Grateful Dead, Paul Butterfield and Creedence Clearwater outtakes, can be found only on the pricier three-disc Ultimate Collector's Edition. The two-set version comes only with a short documentary about the Woodstock Museum, an embarrassing bit of promotional fluff ("We can all be part of the Woodstock legacy!") complete with "groovy" wall labels and a multimedia painted bus display.
Click Here to Talk About Movies at Metro's New Blog
Send a letter to the editor about this story.