06.17.09
home | metro silicon valley index | columns | live feed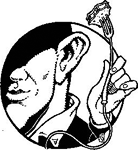 Local Chef to Study in Spain
Jeffrey Weiss of Mission College looks forward to culinary training with Spanish chefs
By Stett Holbrook
FOR Spanish-food lovers in Silicon Valley the pickings are pretty slim. But Jeffrey Weiss hopes to change that. Weiss graduated with top honors from Mission College's hospitality program two years ago. He went on to Cornell University's prestigious hotel-administration program, where he has spent the past two years. He says that his education at Mission College and his experience cooking with Lion and Compass chef and mentor Steve Chan prepared him well for the rigors of the program.
Ever since he traveled to Spain several years ago, he has loved Spanish food and has aspired to open a Spanish restaurant of his own in Silicon Valley. Back when he was a student at Mission College, department head W. Haze Dennis remarked on Weiss' drive and focus. "I wouldn't be surprised to see his name out there," he said. "He's very ambitious."
Weiss is taking another step toward his goal as he heads off on a year-long scholarship to cook in Spain in August with some of the country's biggest names. The scholarship was awarded by the Exterior Cultural Ministry of Spain and is given to only 12 young cooks around the world, only two of whom are from the United States.
Weiss, 32, apparently has a knack for being in the right place at the right time. While at Cornell, he made a connection with Spanish cooking superstar Jose Andres, who runs several acclaimed Spanish restaurants in Washington, D.C. Weiss spent a summer working for Andres' organization THINKfoodGROUP and things went well enough that Andres wrote Weiss a letter of recommendation that helped him win the scholarship.
While in Spain, Weiss will intern at Restaurante Adolfo with chef Adolfo Muņoz in Toledo and at Calima with chef Dani Garcia in Marbella. After his year in Spain and after he finishes up his last semester at Cornell, Weiss says he wants to come back to Silicon Valley and open his Spanish restaurant.
"I'm hoping to bring back [all my experience] when I come home," he says. "I'm a California boy all the way. I'm not going anywhere." I'm holding him to it. We need more good Spanish food around here.
Send a letter to the editor about this story.