06.17.09
home | metro silicon valley index | movies | current reviews | film review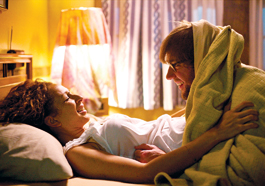 Photograph by Francois Duhamel
UNDERCOVER JOB: John Krasinski and Maya Rudolph cuddle in 'Away We Go.'
The Breeders
Dave and wife Vendela lay an Eggers in Gen-X family values sitcom 'Away We Go'
By Richard von Busack
HERE IS YET another movie that seeks to be the next Juno. Director Sam Mendes' Away We Go, an on-again, off-again road picture, concerns Burt (John Krasinski), an insurance broker whose work consists of taking occasional business calls. His mate, though not his wife, is the dour, nervous Verona (UC–Santa Cruz alum Maya Rudolph). Verona apparently has Phoebe Gloeckner's job as a medical text illustrator.
The two are living in a semiheated single-wide trailer in order to be close to Burt's parents. Then comes the news that Burt's father and mother (Catherine O'Hara, Jeff Daniels) are moving; they'll miss their grandchild's birth and first two years of life. Verona's parents are both dead and can't help. What follows is a series of sketches as these two alterna-plumed worry-birds seek nesting grounds. They take their act to Phoenix, Tucson, Madison and Montreal. The destinations sour on them fast.
The Tucson episode, in which Verona bonds with her sister (Carmen Ejogo), exists to make the finale pay off. That's good to remember, because it doesn't add up otherwise. Allison Janney plays a mad Phoenix housewife with a manic-depressive streak and copper-dyed hair, a taste for greyhound races and an afternoon snort. Her husband (Jim Gaffigan) is her scratching post, and he's given up entirely; he mutters, "America is shit, but I guess that makes the rest of the world flies on that shit."
Janney makes something happen in Away We Go. That happening has been called "overacting" already, but her lancing, obscene patter gives this movie some snap. She's a relief from Burt and Verona, two furry creatures who are the moral and physical center of this movie's universe: the one, a moody pregnant child bearer; the other, a plaid-on-plaid goof who's so soft-shoe that he might as well be wearing footie pajamas.
In Madison, things get angry. Burt and Verona visit LN (pronounced Ellen). She is played by Maggie Gyllenhaal as a superficially nice New Age Nazi. One the one hand, she is overprotecting her child—refusing to put him in a stroller because the boy might feel as if he's being pushed away—on the other hand, she's letting the toddler sleep in her bed, where he can witness his mom having sex. Though it's set in Wisconsin, I'll wager that this segment is about Berkeley—co-screenwriter Dave Eggers' home once—where it is possible to see children who are breast-fed until they have their own library card.
The natural comic payoff to this episode should be the kid's revenge, but the kid doesn't push back. For a movie about children coming into the world, there is not much sense of children themselves, as creatures independent of their parents. As in Mendes' Revolutionary Road, the kids tend to stay out of the picture.
In Montreal, Burt and Verona meet up with friends raising a perfect multicolored Trapp family of adoptees. The jazz clubs and merriness of the summer-wrapped city conceal secret sadness. This sorrow is expressed by Melanie Lynskey, who does an interpretive pole dance to music by the Velvet Underground. Her character, Munch (odd name; Lynskey is nobody's munchkin), delivers the film's key line. To be a parent, she says, "You have to be so much better than you ever thought you could be."
Away We Go gives us the Goldilocks take on raising children. Some parents are too controlling, and others are too negligent; with luck, Verona and Burt will be just right. If the film has something that resonates, it's about the feeling of uninhabitability of America during the end of the Bush years. No surprise that Canada looks like more fun, but even Canada has its discontents: Munch's husband self-criticizes about having been too selfish to start a family in his 20s when his sperm was fresher or something. That's a variant of what the right is saying on the blogs and editorial pages: Get busy, you young girls!
The film is co-written by Vendela Vida, editor of the West Coast literary magazine The Believer, in collaboration with her husband, Dave Eggers. Their script stresses platitudes like "A family is made out of love" or "Kids need to be protected from too much information." During a cafe scene, we get a demonstration model of syrup on sugar cubes—that's how sweet they think a family should be.
It was thought that Eggers spoke for a generation called X—young people with great wells of feeling and yet with terrible fears of being slapped down for expressing their emotions. Thus they wore an ill-fitting mask of cynicism, through which wide, dewy eyes were always visible. As these aging children foal their own offspring, they fear becoming the kind of parents they've been lambasting in print, movies and music for more than a decade.
Eggers is a diligent author, well known for his public service work. But underneath his transcendence is a reverse snobbery against anyone carried away with hostility or critical thinking. While the film's hostility against Gen-X extremes in child-rearing makes its point, I'm still angry about Eggers line denouncing "the screaming bumper stickers" he saw in Berkeley. Is it wrong to make some noise about the way the world is run? Especially if you're planning to bring new kids into it?
Then there is Mendes—a director who supervises outsized, theatrical performances. The text and the actors can sometimes support that bigger-than-life approach, as in Revolutionary Road. Unfortunately, Away We Go, a sitcom for hipsters with guest appearances by wacky relatives, may be dismissed as another dud like Revolutionary Road, which is far from a dud, and which is willing to offend with its passion and argumentative force. It was acid, not sugary. Kate Winslet's one-way escape from the traditional life in Revolutionary Road is here replaced by a pride-of-ownership last shot in Away We Go; what's the address, Reactionary Road?

AWAY WE GO (R; 98 min.), directed by Sam Mendes, written by Dave Eggers and Vendela Vida, photographed by Ellen Kuras and starring John Krasinski, opens June 19.
Click Here to Talk About Movies at Metro's New Blog
Send a letter to the editor about this story.