06.17.09
home | metro silicon valley index | movies | current reviews | film review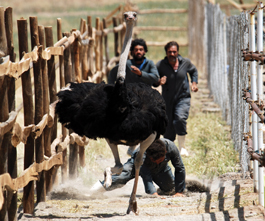 HEAD START: A determined ostrich makes a break for it in 'The Song of Sparrows.'
Funny Farm
In Iranian feature 'The Song of Sparrows,' a poor man learns about business in the city
By Richard von Busack
NOT EVERY FILM can get away with the simple view of the peasant life, such as is presented in The Song of Sparrows. The movie doesn't dwindle into one of those tales reminding us that money just confuses poor people, who are destined to be poor. Iranian director Majid Majidi (The Color of Paradise, Baran) created this funny and appealing story of one man's mishaps. Despite its many episodes, the film has a flow. The theme is perhaps specifically Islamic—it counsels the acceptance of whatever Allah decides to throw in your path, whether it's a bag of gold or a stumbling block. Fortunately, in this movie, acceptance isn't the same thing as being blind to the difference between fate and the injustice caused by men.The first shot is one of earth's strangest sights: the gaping, carmine-lipped face of an ostrich. She and her fellow hens live on a ranch in the veldtlike foothills. They are bred for the egg and plume market, and they are not easy to wrangle. The straw boss Karim (Reza Najie) tries to gentle them (he calls them "pretty birds" as he feeds them), but one ostrich makes a run for it. Karim loses his job because of the escape. Additional trouble comes when his daughter drops her hearing aid into a nearby cistern, clotted with mud and weeds. A new unit will take months to deliver, and she won't be able to attend school until it arrives. After riding his Arshia motorcycle into the city to try to get the hearing aid repaired, Karim is mistaken for a taxi driver. Well-dressed strangers with cell phones (they seem to have no problem getting their electronic equipment) plop into the seat behind him and order him around. This new gig turns out to be good money. And Karim discovers a pile of urban ore—leftover bits and pieces from construction sites, which he hauls back to his house.
The risk of this job gives the film suspense; the traffic is god-awful, and the chance of collision seems high. Sometimes, people overpay him; sometimes, they cheat him out of his fare. Karim carries items of huge fragility on the back of his precarious motorcycle; at one point, he lashes a small refrigerator to his torso. The entrepreneurial spirit overcomes him when he starts hoarding salvaged junk at his house, selfishly refusing to let his neighbors use it. Meanwhile, his children become entrepreneurs of a sort, trying to turn the muddy cistern into a goldfish farm.This very droll movie suggests that an ostrich can be a bird of happiness—the fugitive bird is glimpsed in the neighborhood, leaving an egg or two or a feather as a sign it was there. Majidi's kid wrangling is deft, especially in a passage that gets under your skin: watching an angelic waif waving a makeshift tin-can incense censer among the cars stuck in street traffic, as Karim debates feverishly whether or not he can spare some small change. It's just such little things that make this movie: the absurd arguments or the patter of a roadside fruit peddler (he butters up Karim as a man of good taste: "I love those who know the best"). One can't argue with the picture of the poor man's life presented here: most things get spilled, some things get saved.

THE SONG OF SPARROWS (PG; 96 min.), directed by Majid Majidi, written by Majidi and Mehran Kashani, photographed by Turaj Mansuri and starring Mohammad Amir Naji, opens June 19 at Camera 3 in San Jose.
Click Here to Talk About Movies at Metro's New Blog
Send a letter to the editor about this story.