06.17.09
home | metro silicon valley index | movies | current reviews | film review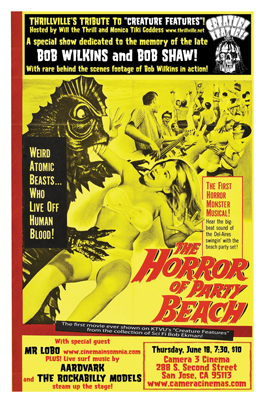 THE RUBBER-SUIT MURDERS: What else would an atomic beast live off but blood? Makes perfect sense to us.
Swingers
Will the Thrill brings his act to San Jose
By Richard von Busack
LOCAL cinéastes who feel they can't buy a thrill are in for luck when Will "The Thrill" Viharo commences his Thrillville screenings in San Jose. The first local Thrillville, on June 18 at 7:30pm, features 1964's The Horror of Party Beach, accompanied by live music by Aardvark and the Rockabilly Models and an appearance by horror host Mr. Lobo. For 12 years, Will the Thrill has been running his "cult movie cabaret" in various Bay Area venues. He describes it thus: "Think of your worst nightmare come to life, but with the possibility of free and pretty useless prizes—a cheap vintage Vegas lounge act from hell." Viharo began by hosting Blue Velvet for a Saturday midnight show. "I quickly moved into vintage grindhouse/drive-in territory," he recalls, "booking a lot of old AIP classics. On May 31, 1997, I met my wife and lifelong lovely assistant, Monica "The Tiki Goddess" Cortes, at a screening of Jailhouse Rock. She showed me her tattoo—a Navajo symbol that says "Elvis"—and the rest is history." When you pour radioactive sludge on human skulls sitting around at the bottom of Long Island Sound, you can expect comeuppance. In Horror of Party Beach, a monster with a mouthful of rubber bratwursts attacks female revelers. Meanwhile, a clean-cut Nutmeg State surf band called the Del-Aires tries to make sense of the tragedy. It was one of two movies producer/director Del Tenney shot in Stamford, Conn., during the course of one fortnight, the other being the old-dark-house mystery The Curse of the Living Corpse. Viharo notes, "Tenney was a native of Iowa, but he moved to New York to work in theater in the early '60s. His first movie [as a producer], Psychomania, was also shot in Connecticut. I imagine it was just cheap to shoot anything there, and the scenery is nice! Another favorite Del Tenney flick is I Eat Your Skin, shot in Florida. I guess he was on vacation and decided, what the hell, I'll make a zombie flick while I'm here." (Nee Voodoo Blood Bath, Tenney's tropical mad-doctor opus was retitled by producer Jerry Gross to make a two-fer with his hippie-maniac rabid-dog-blood injection drama I Drink Your Blood: thus "Two great blood-horrors to rip out your guts!" said the ads. Thanks as always to Michael Weldon for details.)
As for San Jose, Will says: "Yes, I know the way. ... Monica and I go down there every year for Christmas in the Park, and one of our favorite restaurants anywhere is Joe's. I also loved Martini Monkey at the San Jose Airport. Some of the best cocktails we've ever had—unfortunately it got moved behind the security checks." Speculating over shows he'd like to do, Viharo notes, "My favorite B flick is I Was a Teenage Werewolf, which I showed once when Kit Parker had the rights, but now those rights are in limbo, and I couldn't show it even if I uncovered a print. I'd love to show more Russ Meyer and original Toho Godzilla flicks, but they're just too expensive to rent."
Upcoming at Thrillville in July is the babes-in-prison film Sugar Boxx starring Meyer's star from Faster, Pussycat! Kill! Kill!, Tura Santana. Viharo, who is publicist and patron at the Forbidden Island tiki bar in Alameda, was at a birthday party for this uniquely tough actress. There he met the director Cody Jarrett (hi, Cagney fans). "Cody told me all about this film project, a faithfully re-created women in prison exploitation movie, and I told him, when you're ready, I'll book it. Chicks behind bars are more fun than chicks in bars!"
THRILLVILLE takes place Thursday (June 18) at 7:30pm at Camera 3 in San Jose. Tickets are $10.
Click Here to Talk About Movies at Metro's New Blog
Send a letter to the editor about this story.