06.17.09
home | metro silicon valley index | music & nightlife | band review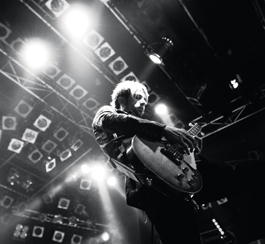 OPENING UP: Third Eye Blind guitarist Tony Fredianelli wants to keep frontman Stephan Jenkins loose.
Third Eye's Revenge
Third Eye Blind popsters abandon Mickey Mouse, find redemption
By Steve Palopoli
IT TOOK almost a decade, but Third Eye Blind is finally getting some payback. After building a fan base around the Bay Area, the band hit it big in the summer of 1997 with its self-titled debut album and the alt-radio hit "Semi-Charmed Life." Frontman Stephan Jenkins wrote in the liner notes to 2003's A Collection that he intended the song as a NorCal response to Lou Reed's NYC anthem "Walk on the Wild Side." But it's safe to say few listeners even noticed the references to addiction—to be fair, most radio stations played a version of the song with the overt reference to crystal meth back-masked out.
The band's record company took notice, and immediately began remolding Third Eye Blind as "adult contemporary," possibly the most uncool designation since "smooth jazz."It was about this time, around 2000, that guitarist Tony Fredianelli stepped back into the band. He had worked on some of the original Third Eye Blind demos with Jenkins back in 1992, and after the dramafest of guitarist Kevin Cadogan being kicked out, Fredianelli seemed like the person to bring some stability and credibility back to the band. He didn't like what he found. "Elektra squandered our credibility by taking us to the Disney shows and just trying to get all the cash they could," he says.
Now, however, Fredianelli is appreciating the irony in the fact that that same generation of Disney fans who first saw the group at their lowest point are now teenagers embracing Third Eye Blind as a legitimate band. One song that he wrote for the band's recent EP, "Non-Dairy Creamer," broke into the Billboard Alternative chart with no push from anyone. "It's funny," he admits. "It kind of went full circle."
The timing, all things considered, is pretty good. Not only is Third Eye Blind on tour—its only Bay Area date is Thursday at Music in the Park—but after a five-year hiatus between albums, it has two coming out this year, Ursa Major and its companion set, Ursa Minor. It's not a double-album, but rather two consecutive releases. "Some songs just fit together," says Fredianelli. "It's like a collage, that's how I look at it." The guitarist, who has his own half-instrumental solo album coming out after the 3eb albums, says he was immediately comfortable writing music for a band whose sound is perhaps too well established.
"I worked on a lot of the original songs, so I had a vision for how the guitar should sound," he says. It will no doubt surprise those who know the band only through its hits what that vision originally was: "A Dinosaur Jr. meets Billy Corgan kind of a sound. That's what we were thinking would be cool early on."
"Non-Dairy Creamer" doesn't go that far, but after a very recognizably Third Eye Blind opening, it does launch into a wall of guitar sound that J Mascis would probably appreciate. Fredianelli realizes it falls on him to reintroduce some edge to the songs, and not just because he was formerly in the speed-metal band Apocrypha. "Stephan needs a counterbalance to some of his pop sensibilities as a songwriter. The stuff I've always written is a little bit more obscure, more open tunings," he says.
Of course, this whole redemption thing could have come around a lot sooner if Jenkins wasn't so notoriously slow with his lyrics. Some of the music on the new album was written as far back as four years ago. On this particular issue, Fredianelli alternates between diplomatic, and not so diplomatic. "It's incredibly irritating," he admits. "But what can you do? You can't force inspiration. Stephen is real picky with himself, real judgmental. He's a Libra."
Released from its contract in 2004, Third Eye Blind now controls its own music and don't expect to see it showing up on the Disney Channel anytime soon.
"It's better. There's no label telling you you've got to do this or that," says Fredianelli. "And you don't feel like you have to take a shower so much."
THIRD EYE BLIND performs at Music in the Park at Plaza de Cesar Chavez in San Jose on Thursday, July 18; admission is free.
Send a letter to the editor about this story.