06.17.09
home | metro silicon valley index | the arts | stage | review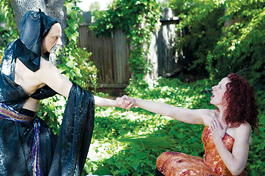 STRETCHING EXERCISE: GreyWolf's Oberon reaches for Sarah Shoshana David's Tania.
Mayan Bard
Arclight Rep moves 'A Midsummer Night's Dream' to Mexico for Shakespeare on the Square Festival
By Jessica Fromm
EXCHANGING the traditional ivy crowns for feather headdresses and playful Elizabethan forest nymphs for mischievous Mayan jungle spirits, Arclight Repertory's Theatre's Shakespeare on the Square Festival production of A Midsummer Night's Dream interprets one of Shakespeare's most popular comedies through the lens of vibrant Central American culture. Though sincere in its efforts to translate the play's English pleasantry into Mexican ethos, the Mayan folk themes feel more tacked on than not. The Mexican connection is primarily achieved though differences in costume choice, and with pipe music and folkloric dancing interspersed awkwardly throughout.
Of the play's three worlds (supernatural, aristocratic and peasantry), the strongest and most comically pleasing by far was that of the merry band of amateur actors. Arclight presents them as a Stetson-wearing, cerveza-slewing bunch who congregate out in front of the local farmacia to practice their parts in a ridiculous version of Pyramus and Thisbe. With his booming voice and commanding presence, Mark Gelineau's over-the-top portrayal of Bottom was thoroughly entertaining. Gelineau's comic timing as the weaver turned actor turned ass was amusing throughout, whether he was taking his role as the tragic Pyramus way too seriously or scratching his newly sprouted donkey ears while being doted on by the fickle Tania, queen of the Ushmals (a very physical Sarah Shoshana David, flitting around stage, dancing and swinging her hips).
Puck, the central role of any production of A Midsummer Night's Dream, is played more darkly then usual by Brittney Mignano. Her Puck hisses and spits at her dispatcher, the roughish King Oberon (GreyWolf, also double cast as Theseus), as he sends her to do his bidding, more of a spirit of chaos and vengeance than cheekiness. The diverse set who make up the group of mismatched lovers were enjoyable in their various inherently silly parts. Fiona Lawson was particularly commanding as the exasperated Helena, enthralled with the fussy Demetrius (Ravi Soundararajan), while Amy Wares presented a spoiled, almost bratty Hermia, squealing and in love with the poetically inclined Lysander (Marc Tabor).
Shakespeare's story takes place in ancient Athens, but the time frame of this production seams to vary greatly in interpretation. Though the scene is supposedly set in present-day Piste, Mexico, and the Mayan ruins of Chichen Itza, some characters dress and act like Mayan warriors (Amazon queens inhabiting the modern Central American countryside?), some appear in traditional attire via the Mexican revolution, while others are clad in modern miniskirts and suits. The result is a confusing aesthetic mishmash of Mexican culture, which further muddles the play's already complicated perception of place and time. Though acted with earnestness, the cultural and artistic identity of Mexico never quite congeals with Shakespeare's vision of summer frivolity in this production.
A MIDSUMMER NIGHT'S DREAM, an Arclight Repertory Theatre presentation, plays Thursday–Friday at 8pm, Saturday at 2 and 8pm and Sunday at 7pm through June 27 at Theater on San Pedro Square, 29 N. San Pedro St., San Jose. A half-hour Green Show featuring Mexican folk dancing begins an hour before curtain rises. Tickets are $15/$20. (408.722.2628)
Send a letter to the editor about this story.