06.18.08
home | metro silicon valley index | the arts | visual arts | review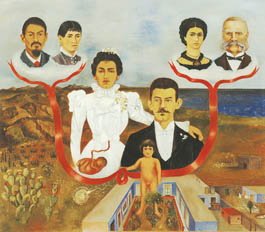 © Museum of Modern Art/Licensed by SCALA/Art Resource, NY; artwork © 2008 Banco de México, Trustee of Diego Rivera & Frida Kahlo Museums Trust
Rooted: Frida Kahlo's 1936 painting 'My Grandparents, My Parents, and I (Family Tree)' stresses the importance of blood ties.
Hairy and Smooth
SFMOMA salutes Mexican artist and icon Frida Kahlo at 100—dogs and monkeys, ribbons and bombs
By Richard von Busack
AT THE first American show, November 1938 at the Julien Levy Gallery in New York City, critics note the "primitive but meticulous technique" of a new artist. Time observes, "Little Frida's pictures" have the "playfully bloody fancy of an unsentimental child." B-list Algonquinist Frank Crowninshield later describes her as "the most recent of Diego Rivera's ex-wives ... apparently obsessive with an interest in blood"— "as if they didn't have blood in their own veins," to quote Pauline Kael's remark about critics' blinkered reaction to Mexicanophile director Sam Peckinpah.
Now Frida Kahlo is honored in a centenary show of 42 paintings at SFMOMA. It's a knockout. Seeing "Frida Kahlo" is like visiting the Musée Picasso in Paris and getting the full force of that one particular talent. The difference is that Picasso's force was spread over many media and artistic stages. Kahlo's force is more tightly focused. Her study is the study of herself, that sensual hirsute face, the joined brows like the silhouette of a black bird in flight—her face slightly turned or more often full, shining in its sense and sensuality as well as its suffering and isolation.
The show is co-curated by Hayden Herrera, whose book Frida Kahlo: A Biography is still essential reading. Organized at the Walker Art Center in Minneapolis, the exhibit is augmented with an exhibit on Frida and Diego's relatively calm times in San Francisco. Key to this show is one of the treasures of SFMOMA, the 1931 painting of the then-cozy couple. "An elephant and a dove," moaned her parents.
Mostly what we see are small autoretrato—self-portraits, small panels, usually oil on Masonite or copper, sometimes tin or aluminum. The works have a medieval flatness that recalls Henri Rousseau. They get richer and more intimate as Kahlo grew in confidence. Being a patient for most of her life—the sad story is all there in Julie Taymor's good 2002 film—led Kahlo into anatomical interest. The largest painting on view, the famous 1939 The Two Fridas, shows two dissected secular hearts, rather than sacred ones. Underneath her own romanticism, Frida must have realized that love is physiology.
The show also includes a few paintings about Frida's travels to America. The "burn, New York, burn" collage/painting My Dress Hangs There features a serpentine dollar sign draped around a cross and a porcelain toilet on a pedestal. Fair enough; the American in me likes functional plumbing, but it can't be fun to have a steady stream of visitors from up north who do nothing but gripe about their bowels.
In another retablo, Frida records her sufferings at the Henry Ford Hospital in the blistering-hot Depression summer of 1932. The division between the sick and the well appears at its most drastic in 1945's Without Hope, where Frida is paralyzed, crammed full of rotten meat with a funnel. Her dessert will be an Oaxaca-style sugar skull, with her name on its forehead.
She aligns sickness with protest in the funeral portrait of the 3-year-old difuntito (deceased child) Dimas Rosas, with his dead-rabbit half-open eyes and teeth, and a rakishly tiltled paper crown—all ready for his date with the angels. This work has Goya's own fierceness refined with a woman's subtlety. That intelligence is evident in one of the world's first great feminist paintings, 1935's A Few Small Nips. It is also visible in her memorial to the society suicide Dorothy Hale, still lovely, though broken and covered with blood.
Some question whether to place the importance of Kahlo as a world or a Mexican artist. Seeing the power of this show, I prefer the first. However, in Mexico, they make real saints out of secular figures. Jesús Malverde, a bandit hung in 1909, is still prayed to by the smugglers of today. Some travelers ask a regional saint called Juan Soldado for safe transit across the border. Frida will be getting her own prayers before long. If some blasphemer painted a mustache and a unibrow on the Virgin of Guadalupe, who wouldn't understand?
FRIDA KAHLO runs through Sept. 28 at the San Francisco Museum of Modern Art; see www.sfmoma.org or call 415.357.4000 for details.
Send a letter to the editor about this story.