06.18.08
home | metro silicon valley index | silicon valley restaurants | review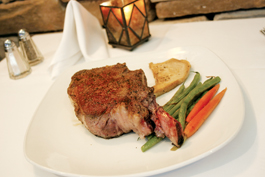 Photograph by Noelle Luchino
BONE UP: The ribeye is as tender as they come at Forbes Mill Steakhouse in Los Gatos.
Big Love
Forbes Mill has established itself as destination dining with its remarkable steak and service
By Stett Holbrook
WHEN Metro first checked in with Forbes Mill back in 2003 shortly after it opened, former restaurant critic Christina Waters pronounced it "a big, burly brasserie equipped with style as well as substance" and "big on concept and big on delivery." I think it made a big impression.
Five years hence, I decided to see how the place was holding up. If you want the short version, just read the next 13 words: it's holding up quite well and still does things in a big way.
Now for the long version.
Stepping into Forbes Mill during one of those searing hot days last week felt like entering a cave, cool and dark. It took several minutes for my eyes to adjust to the dim, amber light, but the effect was transformative. I cooled down and shifted into mellow. And I got to thinking: what's with steakhouses and dim lighting? It seems like most favor a heavy hand on the dimmer switch. Maybe they really are trying to conjure a cavelike experience and tap into the meat-eating Cro-Magnon that lurks within.
For this is a place to eat meat. I confess that after a few bites I tend to get bored with steak, but the 14-ounce grilled ribeye ($36), pepper crusted and cooked just as pink as I asked for it, was as tender and juicy as they come. I liked the simplicity of the snappy green beans and baby carrots served on the side, too.
For a real meat treat though, head on over to the braised short ribs ($25), a lowly cut of meat that's slow-cooked into luxurious cubes of boneless deliciousness. The outside of the meat is beautifully caramelized with great coarse texture and suffused with an Asian pear-ginger-soy glaze. The supremely creamy mashed potatoes and spare steamed broccoli complete the plate.
As good as the beef dishes were, I found the restaurant's seafood dishes more memorable. Due to population declines, local king salmon is sadly unavailable this year, but Forbes Mill's Loch Duart farmed salmon ($26) is a great stand-in. Most farmed salmon is nasty stuff, but this brand of Scotland farmed fish wins high praise for its flavor and the environmentally sound methods used to produce it. I'm a huge fan of local salmon, but I've got to say the pan-seared salmon here was a good as anything I've had out of the Pacific.
I also loved the Dungeness crab–encrusted grouper ($26), a snowy white, rich fish served with a sweetish tomato sauce.
From the appetizer menu, the springy and juicy day boat scallops ($13) were so good I'd like to see them served as an entree. The ginger-spiked tomato chutney served on top set off the briny sweet scallops perfectly and the glutinous black "forbidden rice" and basil curry sauce provided complementary bass notes.
One of the surprises from the list of starters was the red onion and green apple soup du jour ($6). I didn't know what to expect from the unlikely combination, but the cream-based bisque did a great job of imitating cream of tomato soup. The acidity of the apples paired with the silken, earthy quality of the onions really came together.
Less good was the heavy-handed and sweet spinach salad ($9) heaped with strawberries, Humboldt Fog cheese, almonds and an ocean of balsamic vinaigrette. The beet salad ($9) suffered from the opposite problem. The bland red beets needed a splash of champagne vinegar or salt or something to liven them up. The roots shared the plate with an indifferent pile of fresh greens tossed in an unremarkable vinaigrette.
For a real steakhouse classic, go for the wedge salad ($8), an angular chunk of iceberg lettuce lavished with a Point Reyes blue cheese dressing, crispy pancetta and cherry tomatoes.
Even though many customers shuffle in wearing saggy shorts and flip-flops, the restaurant's sharply dressed servers don't let the slobs drag down their service. They are uniformly professional and well versed in the menu. Top-notch service is a rarity in these parts no matter how fancy the restaurant, so the pros at Forbes Mill really stand out. I never saw a sommelier, but the waiters were more than capable of making nuanced recommendations from the expansive wine list.
The desserts are adequate, but the selection offers the same lineup of yawns you'll find at virtually every restaurant. Crème brûlée? Check. Apple pie? Check. Molten chocolate cake? Present. I tried the coffee-flavored crème brûlée ($7) and chocolate cake lava cake ($7) and they were fine, but nothing special. It seems like restaurants have decided that diners don't want anything different for dessert. Or maybe it's just too expensive to hire pastry chefs to create something original.
Still, at 5 years old and counting, Forbes Mill has established itself as one of Los Gatos' destination restaurants.
---
Forbes Mill Steakhouse
Address: 206 N. Santa Cruz Ave., Los Gatos
Phone: 408.395.6434
Hours: Dinner 5–9pm Sun–Thu, 5–10pm Fri–Sat.
Cuisine: Steakhouse
Price Range: $19–$78
Send a letter to the editor about this story.