06.18.08
home | metro silicon valley index | movies | current reviews | dvd review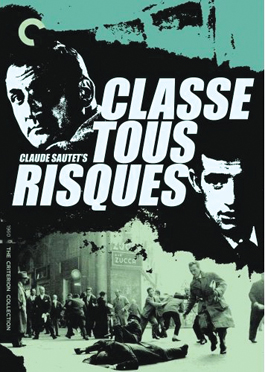 Classe tous risques
One disc; Criterion; $29.95
By Michael S. Gant
Claude Sautet's 1960 French gangster noir begins on the streets of Turin with vérité action that looks lifted from an Italian neorealist drama. The gritty naturalism isn't that far from the on-the-fly style of Godard and Truffaut, but Sautet's first feature looked wedded to the past and got swamped by the New Wave. This lean, almost minimalist black-and-white crime story holds up well in this handsome reissue. Blocky Lino Ventura—a George Raft type—plays Abel Davos, a world-weary crime boss on the run. Doomed from the start, he returns to Paris from Italy and tries desperately to reassert himself with his old underworld cronies, who are conspiring to deep six him. Davos harbors no illusion about his own fate; he only wants to find safety for his two children. It's a testament to Sautet's cold-eyed style that this subplot is never sentimentalized. Davos is contrasted with a brash young hood (a very young Jean-Paul Belmondo, whose breakthrough film, Breathless, came out the same year) who is rising as fast as the old gangster is falling. The dialogue (and the brief existentialism-tinged narration) is terse, and as Sautet says in an interview, his kind of "pure cinema" relies more on "the body and facial expression, which have their own eloquence, their own poetry." Classe tous risque was the first film for Sautet, who worked for a decade as an assistant director (on Georges Franju's horror classic Eyes Without a Face most notably). His career, which included some self-imposed "retirements," took a late uptick in the 1990s with his final films, the much-lauded Un coeur en hiver and Nelly & Monsieur Arnaud. This exemplary Criterion package comes with a booklet featuring appreciations of Sautet by fellow directors Bertrand Tavernier and Jean-Pierre Melville, plus lots of interviews with Sautet, Ventura and novelist José Giovanni in the extras.
Click Here to Talk About Movies at Metro's New Blog
Send a letter to the editor about this story.