06.18.08
home | metro silicon valley index | movies | current reviews | dvd review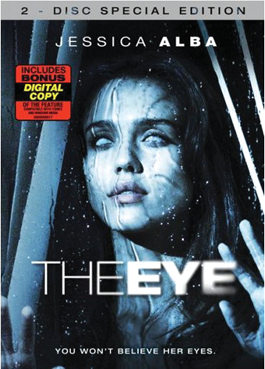 The Eye
One or two discs; Lionsgate Home Entertainment; $29.95/$34.98
By Michael S. Gant
Why cast shimmering-tressed golden girl Jessica Alba for The Eye, an American remake of a popular Pang brothers chiller, if you're going to give her stringy mousy-brown and keep her covered up? Her acting—devoid of the great packaging—is barely adequate to a paranormal tale of a blind violinist who gets cornea transplants (so why isn't it called The Eyes?) and then discovers that she's seeing the terrible visions that befell the orbs' original owner. The shocks are few and far between; how scary is a little kid who's lost his report card, really? Parker Posey is wasted as the hapless sister, and Alesandro Nivola, as the first-skeptical, then-believing doctor, neglects to shave. Eventually, Alba's search for answers takes her to Mexico and a strange subplot about substandard work-safety rules—a covert critique of NAFTA perhaps? The disc comes with lots of minifeatures about the special effects and some mumbo-jumbo about ghosts and the walking dead. The best of these is a behind-the-scenes look at the shadowman, an impossibly skinny actor named Brett A. Haworth who shuffles along in front of a green screen with nothing to wear but spray-on skin-colored briefs. The planning for the big tanker-truck explosion scenes, including a lot of 3-D storyboarding with model cars, is more fascinating than the actual scene. The two-disc edition comes with a digital download for those who want to watch the movie on an MP3 player screen not much bigger than an ...eye.
Click Here to Talk About Movies at Metro's New Blog
Send a letter to the editor about this story.