06.18.08
home | metro silicon valley index | movies | current reviews | dvd review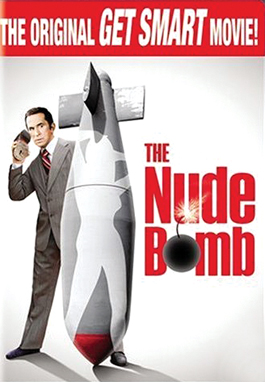 The Nude Bomb
One Disc; Universal Studios; $14.99
By Matthew Craggs
The old "produce a lackluster DVD to capitalize on an upcoming theatrical release trick"—Maxwell Smart would be proud. In preparation for this summer's updated Get Smart film (opening June 20), Universal has thrown together the original big-screen adventure of the hapless spy. As the title suggests, 1980's The Nude Bomb isn't a deep film. The plot loosely revolves around the evil organization KAOS and its plans to set off a series of explosives that would eradicate all clothing in the world. Unlike parodies such as Scary Movie and Hot Shots! that target specific sources for their comedy, The Nude Bomb skewers the spy genre as a whole so the humor still holds up today—if you think a huddled football team being hit by the nude bomb is funny. After 20 years, Don Adams as Maxwell Smart still elicits laughter, and it's refreshing to watch a parody that doesn't rely on gross-out humor. The biggest problem is the absence of Smart's foil, Agent 99. Ignoring the marriage of the two agents, The Nude Bomb tries to fill Barbara Feldon's heels with Andrea Howard as Agent 22, but in the end she falls flat. Additionally, the original Chief of CONTROL, played by Edward Platt, is replaced by MacGyver's boss, Dana Elcar, but this time with forgivable results. The picture and sound have been cleaned up, but surprisingly there are no special features. Fans of Get Smart or old-school parodies will feel right at home, but for anyone else The Nude Bomb "missed it by that much."
Click Here to Talk About Movies at Metro's New Blog
Send a letter to the editor about this story.