06.18.08
home | metro silicon valley index | movies | current reviews | film review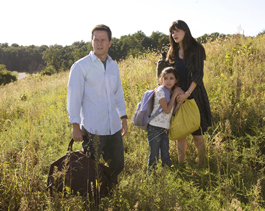 Photograph by Zade Rosenthal
FIELD-GOOD MOVIE: Mark Wahlberg, Zooey Deschanel and little Ashlyn Sanchez trek through the wilds of Pennsylvania in 'The Happening.'
Green Hell
Not enough happens in
M. Night Shyamalan's horror tale 'The Happening'
By Richard von Busack
HERE COMES the spoiler. The key to fighting the unnamable horror in The Happening is to hide yourself away from other human beings. Guess I won't be the first to suggest that theaters showing The Happening are a natural refuge. In 90 minutes that seem as long as Berlin Alexanderplatz, M. Night Shyamalan hits his low-water mark. Mark Wahlberg, usually such a spark plug, plays Elliot Moore, an apparently emasculated Philly math teacher (the sweater vest he wears is supposed to make us believe it). Zooey Deschanel plays his wife, Alma, who is starting to consider straying from Elliot (must be the sweater vests). A sudden crises intervenes. In Central Park, a rash of suicides breaks out. The media supposes that this is the result of a neurotoxin released by terrorists. When the epidemic spreads to Philadelphia, a mass migration heads for the woods.
Wahlberg's colleague Julian (John Leguizamo) goes to New Jersey to find his own wife. Before he leaves, he hands over his child for Elliot and Alma to watch. (The child, played by Ashlyn Sanchez, puts a serious dent in Shy's rep as a kid wrangler.) The couple and the kid get stuck in Filbert, Pa. Even there, the mysterious forces that are driving people to harm themselves are stirring on the breezes.
The endgame is hosted by a cracked hermit (Betty Buckley) in a fun performance; unlike anyone else in the film, Buckley has an idea of what she's doing. It's a good movie to be a nut in, since this is a nut's movie. Elliot's much restated faith in the scientific method doesn't square with his blather about the paranormal, such as aura photography and the ability of plants to communicate with each other. Speaking of photography, Tak Fujimoto can't rustle up any menace. What probably should have looked like October country is more like midsummer. The much-advertised R-rating isn't justified with the director's grudging and ineffective use of gore. The R doesn't suggest sex either; that particular subject gives Shyamalan a bigger case of the willies than he can give his audience these days. He makes Spielberg look like a voluptuary. Even the experienced-looking Deschanel is directed to pop her eyes like a virginal schoolgirl from beginning to end.
Apparently, what Shyamalan is trying to do is work the subtext of The Birds, with the idea of emotionally wounded humans first inviting crisis with their lovelessness and then drawing together in face of catastrophe. In an empty model home at a proposed housing development, the characters take refuge; over this mock-house, we see an advertising sign reading, "You Deserve This." The Happening (so aimless it should be called The Happenstance) can't even make it clear if Shyamalan is protesting against the lack of love in modern life or merely against the endless minimansion development of the Pennsylvania countryside. Those who have to agree that Night's scripts clunk like a square-wheeled big rig argue that he's a master of mood. If this were true, wouldn't he realize that horror probably isn't the best genre for the stating his affirmation for the nuclear family? Unless you're a religious maniac, apocalypse and optimism don't belong together.

THE HAPPENING (R; 91 min.), directed and written by M. Night Shyamalan, photographed by Tak Fujimoto and starring Mark Wahlberg and Zooey Deschanel, opens June 13.
Click Here to Talk About Movies at Metro's New Blog
Send a letter to the editor about this story.