06.18.08
home | metro silicon valley index | music & nightlife | band preview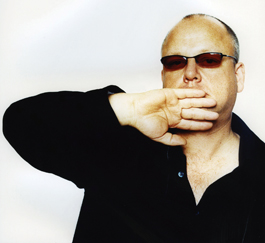 GOING DIGITAL: Black Francis' new 'Svn Fngrs' draws on the legend of a mythic Irish war hero with a shortage of fingers and toes.
Into the Black
The Pixies' Black Francis returns with rhyme and quirk to burn
By Steve Palopoli
I'M A BIG supporter of rhyming dictionaries," Black Francis tells me.
"Me too," I say, before suggesting my favorite rhyme repository of the moment. "If you haven't seen rhymezone.com ..."
"Oh, that's the one I use all the time lately," he says excitedly. "I've got so many rhyming dictionaries in my house, but of course half the time I can't find them. Sometimes I'll use the words I find, and sometimes I won't. Sometimes they'll get me thinking, and I might end up on some other journey altogether. I never know where a rhyming dictionary is going to send me."
Coming from the man whose latest EP, Svn Fngrs, features the lines "Honey I was born/ In a double orgasm/ Battle for the cattle/ Yeah, gimme war spasms," this is not exactly a surprise. Frankly, I wouldn't trust this guy with any reference book. You never know what he'll come up with.
The former Pixies songwriter and frontman, who plays Monday at Brookdale Lodge and July 9 at the Uptown Club in Oakland, is in an especially fertile period creatively, and his last three projects have relied on the glorious perversion of one encyclopedia or another. Svn Fngers gets its title from the Irish legend of Cuchulainn, a bloodlusting berserker who was sort of the Gaelic version of Achilles, and supposedly saved Ulster from an invading army all by his lonesome in the Cattle Raid of Cooley. The minialbum's best song, "When They Come to Murder Me"—indeed, it ranks among the best Black Francis songs of all time—is written from the point of view of Cuchulainn, who had, it's said, seven fingers and seven toes.
Around the time of Svn Fingers' release, Black Francis was finishing the final preparations for the debut of his score for the 1920 silent film The Golem. I caught this one-night-only performance at the San Francisco Film Festival, and was surprised to see that he had written not just a rock score but a suite of songs with lyrics that brought out the emotional undercurrents of a film even its fans usually consider little more than a historical artifact. The songs made the film human again; in fact, they added some depth that perhaps hadn't even been there in the first place. I figured he must have spent months preparing this project. Turns out he wrote it mostly in four days on a trip to San Francisco, while recording it in a studio with his band.
"I got there the day before the session and I holed myself up in the hotel room for 24 hours and I wrote as much as I could," he remembers. "Then I went to the first session. I would get up every morning at six or seven and write for a few hours and then go in and work again."
His third recent project was last year's Bluefinger, the album for which he returned to his Pixies-era moniker, Black Francis, after spending his solo career as Frank Black (his given name is Charles Thompson IV). It was heavily influenced by controversial Dutch musician Herman Brood, who died in 2001.
Francis' profile as a solo artist is not as high as when he played the huge Pixies reunion shows in 2005 and 2006 to thousands of kids chanting the lyrics to "Where Is My Mind?" and "Wave of Mutilation." It is one of the most bizarre disconnects in rock music. Many fans seem to expect everything he does to sound like the Pixies (and some of his recent songs like "Threshold Apprehension" actually do), but some of his best solo songs have gone in an entirely different direction, like the throwback-rock of "If It Takes All Night" and the country sound of "I Burn Today."
"I get a lot of satisfaction out of moving ahead, and just writing a lot of songs, for better or for worse," he says. "I don't know if they're good when I'm doing them. Sometimes I have an inkling or a hint that 'Oh, this a good one.' But especially when you're working with material that's at least occasionally quirky—it's not like I'm writing songs for the next Elton John album, you know what I mean? If you're writing songs for the next Elton John album, you've got some specific parameters. But when you're dealing with quirk, it's sort of like, how 'bout this one? Is it good? I don't know, but it's quirky!"
BLACK FRANCIS performs on Monday (June 23) at 7pm at Brookdale Inn and Spa, 11570 Hwy. 9, Brookdale. (831.338.1300)
Send a letter to the editor about this story.