06.18.08
home | metro silicon valley index | music & nightlife | band review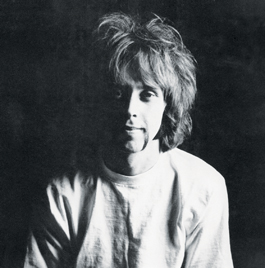 ONE MAN BAND: Jefferson Airplane and Moby Grape alumnus Skip Spence gets memorialized at the Rio Theatre.
Honor Thy Father
Skip Spence's son and the White Album Ensemble pay tribute
By Paul Davis
THERE'S a depressing myth in the music industry that equates self-destructiveness with genius, schizophrenia with inspiration. Note the sad fates of Pink Floyd's skewed genius Syd Barrett, pop's great composer Brian Wilson or the Bay Area's own Skip Spence.
The tendency in the annals of rock criticism has been to canonize these artists, make them martyrs to their eccentric genius. For better or worse, Skip Spence is the recipient of this sort of twisted hagiography—the iconic status comes as a much-needed corrective for a great artist whose short career has threatened his place in the rock canon. Unfortunately, people tend to focus on Spence's madness rather than his truly striking body of work.
For the uninitiated, Skip Spence might appear to be a footnote in rock history. But it's likely that even if you're not familiar with Spence, you're familiar with some of his work and the people he ran with in the '60s. A multi-instrumentalist who cut a striking swath through the decade's psychedelic scene, Spence first rose to prominence as the drummer for Jefferson Airplane. He was fired by the band after its first album, and then joined the legendarily heavy Moby Grape, penning the band's signature song, "Omaha." Upon the release of Moby Grape's debut, Spence and the band became the toast of the far-out late-'60s rock scene, but troubles were on the horizon.
Unnerved by the attention, Spence resorted to taking speed, which exacerbated his already-shattered mental condition. In an episode that lives in rock infamy, Spence became convinced that his band mate Don Stevenson was possessed by Satan, and chased him with an ax during the recording sessions for the band's sophomore release. Spence was promptly kicked out of the band and committed.
Upon Spence's initial release from the Bellevue Hospital, he went to work on his only solo release, Oar, which has quietly taken its place as a forgotten classic, a cult album for true rock cultists.
Oar is, for lack of a better term, haunted. In ramshackle sessions, Spence recorded the entire album by himself, reaching deep into prewar folk forms and his own troubled psyche to release a masterpiece of psychedelic folk music. It's loose, strange, yet undeniably entrancing, seeming to channel the ghosts of long-forgotten blues, gospel and folk artists while laying down a road map for generations of musicians to follow. Artists as disparate as Led Zeppelin and R.E.M., Tom Waits and Alejandro Escovedo have all declared the album to be a major influence on their work.
Spence would never release an album again, even though he lived to see the impact his work would have on generations to come. In fact, weeks after Spence passed away in Santa Cruz in 1999, many of the aforementioned artists appeared on More Oar, a long-overdue tribute to his seminal album. After seeing the White Album Ensemble perform at the Rio, Spence's son Omar was struck by inspiration. "The sound was phenomenal and the mix in the room was really clean. I was so impressed that I approached Dale [Ockerman] and asked him if he would be interested in doing something for my Dad, to honor his music."
By paying tribute to Skip Spence's work, Ockerman hopes to move some of the attention away from Spence's travails, choosing instead to immerse himself in Spence's music to try to capture the artistic intention in the work. "I like to do things really in detail," he says, "like a method actor. I like to think of the motivation behind the songs."
Even with Omar re-creating Spence's vocals, Ockerman recognizes that it will be a challenge conjuring up the haunted energy of Spence's best work, with its rough-hewn instrumentation.
"When you're listening to Oar, you're listening to one man who had a very short amount of time to record," Ockerman says. "We're making subtle little changes. But he was an electric madman onstage. We're trying to not make it too calmed down, not a Prozac version it. We're trying to arrange it so it works—lovingly crafted, polishing up the songs without taking a hit off them."
THE SKIP SPENCE TRIBUTE CONCERT takes place Friday, June 20, at 8pm the Rio Theatre, 1205 Soquel Ave., Santa Cruz. Tickets are $20, available at Streetlight Records. For more information, call 831.429.1812.
Send a letter to the editor about this story.