06.18.08
home | metro silicon valley index | music & nightlife | band review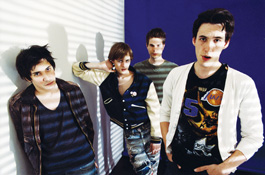 BRAT PACK: Don't hate the Virgins because they're beautiful.
Art Stars
The Virgins break out of theNYC hipster machine
By Jessica Fromm
THE VIRGINS formed less then two years ago, but that hasn't stopped them from becoming one of the most buzzed-about bands to rise out of New York's hipster collective. Equipped with rangy Misshapes looks, the Virgins have crafted a collection of dancey, funk-laced art rock ready-made for all the girls standing in the line for the bathroom.
Rocketing to attention and sending music bloggers salivating at their keyboards, the Virgins have garnered enough notice to draw comparisons to the hype machine that brought fellow New Yorkers the Strokes to prominence.
The band was signed to Atlantic Records before the label even saw them perform, and the quartet found themselves opening for Patti Smith at Paris Fashion Week at their third ever show. With scenesters and the fashion world latching onto their catchy, if not entirely innovative party pop-rock sound, the band has been touring hard for the last year.
Having just released a major label self-titled album on June 3, the Virgins are slated to play as part of Nylon Summer Music Tour at the San Francisco Fillmore on June 20.
Sounding like he may have skied the slopes a little too hard the night before, Virgin's lead singer Donald Cumming is on the phone from a tour stop in Canada. His speaking voice has that large-nosed nasally croak eerily similar to David Swimmer, or at least a stoned Kermit the frog that doesn't sound thrilled about doing this interview.
Subsisting on a steady road diet of sausage and green pepper pizza and Pepsi, Cumming is striding down the streets of Toronto talking on his cell phone, alongside what sounds like a few giggling female companions. He gushes about the new gold chains that he just bought himself, with some of the financial rewards that his band's sudden success as brought him. Like so many things in Cumming's life, the Virgins just "sort of fell into place" at the right pace and the right time.
A Manhattanite born and raised, Cumming left home and school as a teenager and immersed himself in the city's nightlife. After getting street cast for his fashionably rail-thin frame and scrappy good looks, Cumming managed to live hand to mouth on modeling and acting gigs while directing most of his energy to evenings spent partying and listening to music at ungodly high decibels.
Cumming confesses that he wasn't the best model. "I think that I've screwed up every modeling job that I've ever had to some degree," said Cumming. "Showing up late, forgetting about the job. ... Anyway you could imagine somebody fucking up a modeling job, I've fucked it up."
Obviously, it was never on his agenda to make modeling a carrier. Cumming's main pursuits in life were hanging out and making art. "I think that if you want to make art you should just make art and just work on that. Any kind of real job you can get that would actually support you ... completely conflicts with the creative process," said Cumming.
Creating songs on his acoustic guitar when he could, it wasn't until Cumming met fellow model Wade Oates on a shoot in Mexico that the band and sound that would become the Virgins began to form. The Virgins lineup is now helmed by Cumming, with Oates on guitar, Nick Zarin-Ackerman on bass and Erik Ratensperger on drums.
But what about the Virgin's meteoric, almost instant fame? The models and socialites seen rocking out at the Virgin's shows? The hipper then thou culture that has spawned their reputation of being the freshest, most talented act NYC has seen in years? Cumming is decidedly vague on his band's prospects.
"How I feel about it is much less relevant than how you feel about it, and everybody else," said Cumming. "I would never want to narrow it into something. What I think it is only relevant to me, so, you know, I just don't think, it's just not even worth mentioning."
Uh, OK then. Still, don't be surprised when you see these party boys' chiseled faces splashed across magazine covers in the near future. With the Stokes off busy being married and sober, the Virgins are poised to be bumped up to their spot at the top of New York's übercool elite. Let the good times roll.
NYLON SUMMER MUSIC TOUR takes place Friday (June 20) at 8pm at the Fillmore, 1805 Geary Blvd., San Francisco. Tickets are $25, (415.346.6000)
Send a letter to the editor about this story.