06.18.08
home | metro silicon valley index | the arts | stage | review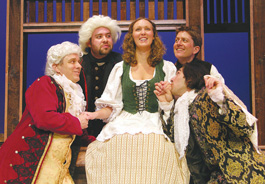 Photograph by Ben Brotzman
Center of Attention: Miranda (Maegan McNerney (center) is surrounded by (from left) Stefan Fisher, Jake Beamer, Jonathan Shue and Angelo Cerniglia.
The Inn Crowd
CTC moves Goldoni's Italian comedy to early America
By Marianne Messina
REVOLUTIONARY WAR–ERA America a cosmopolitan place? It may not be how we picture our rustic beginnings, but with the French fighting for us, the Brits fighting for King George and the Hessians fighting for them, ye olde colonies would have been crawling with Europeans (war as uniter not divider). California Theatre Center's Liberty Inn pulls its characters from this polyglot pool in Dakin Matthews' adaptation of an 18th-century Carlo Goldoni play. Matthews, a theater scholar with countless industry credits, including a recurring role in Desperate Housewives, was in the house on opening night to celebrate his relocation of Goldoni's Tuscany inn to America. Adaptations of Goldoni's original play, La Locandiera (The Inn Keeper), have transported the popular story line across continents, eras and genres, from an opera by Antonio Salieri to the notoriously erotic Tinto Brass film Miranda, set after World War II.
In CTC's version, the innkeeper Mirandolina (Maegan McNerney) finds herself with a George Washington portrait on the wall, a Davy Crockett–looking servant and an inn full of competing suitors. Her delicate task: to sort out the suitors while managing the inn. The suitors include moneyless French Marquis de Outre-le-Peuple (Angelo Cerniglia), pompous, newly moneyed British Count Whitflower (Stefan Fisher) and hot-blooded Hessian Capt. von Brackenstrand (Jake Beamer). Cerniglia, Fisher, and Beamer create a veritable three musketeers of chemistry—Affected, Effete and Forces Elite.
Goldoni is credited with bringing Italian theater from the commedia dell'arte, where he started his career, to theater with less improvisational story lines and more lifelike characters. And this production, directed by Will Huddleston, tips a hat to Goldoni's place as a transitional figure. While Mirandolina and her intended, Faber (Jonathan Shue), are genial and realistic, the suitors are portrayed in varying degrees of caricature. Have no doubt, their foreign accents are piteous: they made my theater partner squirm, especially Cerniglia's awfulodious French accent. But the bad accents wink at commedia stock characters while also signaling pretension of the highest order. None of Mirandolina's suitors can deliver on his boasts, and the marquis, with his Marie Antoinette–era pancake makeup, is the most pretentious of all. Jane Lambert's costumes are delicious—gold brocade long coats and burgundy velvet robes.
As the innkeeper, McNerney is no saucy, robust lady quipping in Italian cadences. Quietly charming, she comes across more as a secret plotter than a quick wit, which occasionally sedates the interactions. But it makes her intriguing, further distancing her from stock. As the swaggering captain (a commedia favorite) who boasts that he "hates women," Beamer is actually likeable, showing a touch of vulnerability even as he swears he will never let a woman take him in: "I would much rather insult them to their faces." The mischievous innkeeper wants to prove him wrong through temptation and burgundy. And as he gets "burnt and broiled to a crisp" (in many ways), a sudden clap of red-hued lighting cues up dulcet Vivaldi-ish music. Formerly hidden in a formidable sheath and drawn by the captain to duel the count, the marquis' stump of a sword leads to a hilarious, ill-matched sword fight (choreographed by Beamer) that says it all.
LIBERTY INN, a California Theatre Center production, plays in repertory at the Sunnyvale Community Center, 550 E. Remington Dr., Sunnyvale. Performances are June 21, July 17 and 26 at 7:30pm and July 6 at 3pm. Tickets are $18–$25. (408.720.0873)
Send a letter to the editor about this story.