06.18.08
home | metro silicon valley index | the arts | stage | review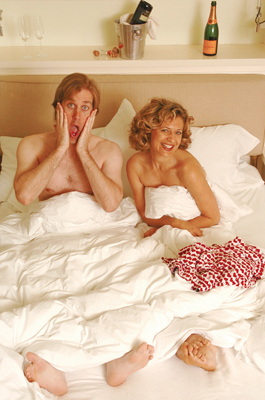 Photograph by Joyce Goldschmid
WHO ARE YOU AGAIN?: One-night stand Judy (Linnea George) confuses Bill (Graham Hill) on the eve of his 'Perfect Wedding.'
Nuptial Nipped
A new woman on the eve of marriage makes Bill's life a farce in 'Perfect Wedding'
By Marianne Messina
WITH THREE DOORS for the least-convenient person to burst through at the most inconvenient moment, Robin Hawdon's Perfect Wedding needs near-perfect staging. Hawdon gives us a deceptively simple opener: bridegroom-to-be Bill (Graham Hill) wakes up the day of his wedding to find himself in bed with a woman (Linnea George) who's not his fiancee. Thinking we know more than we do as Bill tries to piece together what happened, the audience suspects denouement around every corner. Instead, the plot grows ever more complicated. The Palo Alto players pull it off, stretching the nervous tension of the play's humor to each new twist.
While Bill and his friend and best man, Tom (Lance Fuller), are still plotting to cover up the extra woman, the bride, Rachel (Breigh Zack), arrives. Bill tells his one-nighter, Judy, to claim she's the chambermaid, and mistaken identities draw in the real chambermaid Julie (Jeannie Naughton). Costume designer Mary Cravens enhances each characterization. Rachel's mother, Daphne (Celia Maurice), is wedding-absorbed and a bit absent; Cravens crowns her with a ditsy hat stuck with what looks like pink-feathered rubber arrows that bob and boing, while oblivious Mom puts rival Judy in Rachel's wedding dress and the best man chases the bridegroom around with a carving knife. Tom's full-dress tails and slicked-back hair counter Bill's flyaway hair and half-dressed discombobulation, suggesting who's got it together and who hasn't.
Naughton holds the center in this humorous pinwheel of deception. As everyone turns to Julie for either alibis or answers, Naughton's Tracey Ullman quality delights. She plays along all smiles in lowbrow British accent until Bill presses her in an exchange—"It's a matter of life and death"; "Whose?" she asks; "Mine." "You deserve to die," she brushes him off with nonchalance and a smile. Even her critical moral judgments—"You lot are like rabbits"—come out funny. Bouncy blonde curls enhance George's natural attractiveness as Judy and her deep voice and drawn-out elocution make her a classy temptress. George also hops deftly in and out of lowbrow accent as cover stories compound (she's the chambermaid; no, she isn't; yes, she is).
Director Jeannie Forte veers from the Benny Hill direction that might confine female roles to visual fluff, and which the simple text allows. And the humor is knit with both sight gags—a duel with a toilet cleaner—and funny, well-timed stage biz, like the scene in which Bill is "helping" the "chambermaid" (actually Judy) make the bed, behind the gabbing bride-to-be's back. Just when Rachel says: "I trust him," the bed hoppers fall into a suggestive grapple. The American '60s music in and around the acts kind of squashes the mood of the English play set recently enough to mention Oprah (Earth to sound designer), but Kuo-Hao Lo's set is both functional and evocative. A suite of two rooms divided by an erratic cutaway wall allows us to watch the machinations of the ignorant and the ignominious at the same time, and the tortuous line where the wall is cut reveals a dark, ugly stuffing. In spite of all, the play earns its title in a predictable Shakespearean ending.
PERFECT WEDDING, a Palo Alto Players production, plays Thursday–Saturday at 8pm and Sunday at 2:30pm through June 29 at the Lucie Stern Theater, 1305 Middlefield Road, Palo Alto. Tickets are $30. (650.329.0891)
Send a letter to the editor about this story.