June 20-26, 2007
home | metro silicon valley index | movies | current reviews | film review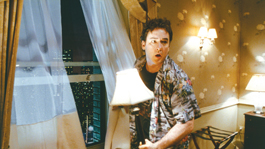 Benoît Delhomme/Dimension Films 2007
Don't even think about using the minibar: John Cusack goes off the deep end in hotel nightmare '1408.'
Hotel Hell
'1408': They check in but they don't check out
By Richard von Busack
WATCHING a man go mad in a little room is one of the purest kinds of terror, especially if that madness isn't induced by the torture devices of Mr. Jigsaw or whomever. The new film 1408 is so essentially smart it could have even draped itself in the Hamlet quote "I could be bounded in a nutshell and count myself a king of infinite space, were it not that I have bad dreams." Not all of 1408 works, and even at relatively short length, it exhibits a significant ratio of bun to wienie. The early sequences are shrewd—John Cusack's Mike Enslin is a grim writer working on a series of 10 Haunted Hotels, 10 Haunted Cemeteries, 10 Haunted Lighthouses, etc., annoyed by boneheaded readers and dullard bookstore clerks. Enslin slouches through Hermosa Beach on his time off, until one day he gets a fateful postcard luring him to the Dolphin Hotel in New York City.
Director Mikael Hafström has to labor to set up the story, as if answering somebody's insanely pesky questions: Why is the sealed-off room not musty and moldy; why would the management allow someone to spend the night in a death trap? And lastly, the question that should have been answered with a large pie to the face of the person asking it: How can we give this very death-affirming little 1999 story by Stephen King a positive ending and a lesson in the importance of faith?
Well, every show has an admission price. Almost worth it this time is the splendid Samuel L. as the hotel manager, Mr. Olin. Once again, Jackson feeds his Vincent Price–worthy hunger for rich, cholesterol-laden material. He is class with a capital K, duded out in a gold-satin tie, surrounded with a chess set, a cognac decanter, fancy cigars and leather-bound first editions. And he gets to utter a sepulchral "Come with me," as he leads Cusack to the scaffold, or rather the elevator. When swankness fails, Olin leans in for a last warning: "This is an evil fucking room ... ," which has so far dispatched 50 people; hardly anyone lasts an hour. And a magic hour it is, and it seems to be done in real-time. Room 1408 has an armory at is disposal: bad mirrors, paintings that don't behave, entombment, abandonment, death by water, visits by the dead who are angry at us for having failed them. One ghost is Len Cariou in a cameo, playing Cusack's demented father, pronouncing the classical memento mori, inscribed under images of grinning skulls: "As you are, so was I."
What else? Extreme heat, extreme cold, "a baby's venom" (as Toni Morrison put it, describing those skeleton-rattling howls). The film's cleverest jump-getter proves to be a misbehaving clock radio that won't cease blaring the Carpenters' "We've Only Just Begun." Although I have never seen a ghost in a hotel room, I have many times been the victim of the evil clock radio that hates people and wants them to have a heart attack. These and a few other fine scare features make one jump and laugh, as opposed to just jump. Cusack simmers away in this almost one-man show, near drooling with fear and dribbling stream of consciousness and muttering something about "Orpheus on the Orpheum circuit." Not divine madness, but there's certainly a hard-working method to 1408.

1408 (PG-13; 94 min.), directed by Mikael Hafström, written by Matt Greenberg, Scott Alexander and Larry Karaszewski, based on a story by Stephen King, photographed by Benoît Delhomme and starring John Cusack and Samuel L. Jackson, opens June 22 valleywide.
Send a letter to the editor about this story.