June 20-26, 2007
home | metro silicon valley index | columns | 5 things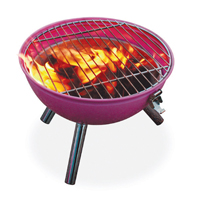 5 Things to Love
Great Grills
By Stett Holbrook
YOU CAN'T BEAT the convenience of a propane grill, but for smoking, slow cooking or just the great flavor that comes from cooking over wood or charcoal, check out one of these grills.
Big Green Egg This combination grill-smoker-oven is a real beauty. The ceramic construction of this egg-shaped wonder can hold at low temperatures for hours or fire up to 700 degrees or more for grilling steaks or brick-oven pizzas. Prices range from $200 to $700 depending on the size. Biggreenegg.com.
Lodge Hibachi Americans don't have a lock on grilling technology. The Japanese-inspired Lodge "sportsman" hibachi grill offers great grilling in a small, portable, cast iron unit. $85. Lodgemfg.com
New Braunfels For about $100, the drum-shaped New Braunfels grill/smoker is a value-priced barby for the grill enthusiast. The Black Diamond offers an offset firebox for long, slow smoking with indirect heat, a.k.a. barbecueing.
Porta-Grill It's one thing to show up at a Saturday barbecue with a few beef patties and beer in tow and quite another to pull up with a trailer-mounted Porta-Grill. The trailer body is built of tough 1/10-inch-thick 12 gauge steel and is equipped with dual tail-brake lights, 1-7/8-inch coupler and a swing tongue jack. Prices start about $2,800. Side of beef not included. Belson.com.
Weber The Weber is the Budweiser charcoal grill. They're everywhere and still pretty good. The classic, bulbous-shaped Weber has been grilling up burgers and steaks for years. New "one-touch" ash cleaning makes life easier. Prices start about $80. Weber.com.
Send a letter to the editor about this story.