June 20-26, 2007
home | metro silicon valley index | columns | silicon alleys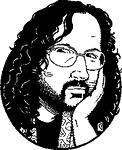 Silicon Alleys
Do It for Krazy George
By Gary Singh
A SEA OF BLUE filtered into the San Jose City Council meeting last week in support of Lew Wolff's proposal to bring the San Jose Earthquakes Major League Soccer franchise back home, maybe as early as next year. I wasn't there, but I watched the streamed version. The boisterous affair provided several splendid opportunities to witness the culmination of at least three years of efforts by die-hard fans to spearhead all this, as well as impressive commentary coming from the council themselves, who voted unanimously to enter into a memorandum of understanding, granting Wolff exclusive bargaining rights. That is, they will strive toward making a deal by October to finalize the particular details.
Since this whole shebang involves Wolff purchasing some unused-for-40-years land and getting the council to rezone it from industrial to housing in order for him to sell it and use the profits to pay for the new Quakes stadium at the old FMC property, certain things have to be hashed out, since some folks opposed it, constantly belching things like, "We need more jobs, not housing," and acting like a mere 1,000 more condos is going to require 6 zillion more police and fireman and destroy traffic for miles and miles in every direction.
Since everyone involved seems to think that Wolff really, really wants to see the Quakes return to San Jose and believes this project benefits everybody, he'll find some way to preserve the overall job capacity and protect industrial lands no matter what happens, including building industrial and retail on the same property as the new stadium. At least that's my read on the whole thing. Like Paul Krutko, director of the San Jose Office of Economic Development, said at the meeting, "This deal isn't about jobs or housing. It's about jobs and housing and the Earthquakes."
Anyway, to digress, this all goes way back to 2004, when the first convoluted rumors emerged that the folks who then owned the Quakes were dead set at shuffling the team away, which they pretty much were. So a bunch of die-hard fans organized a supportive rally in August of that year, drawing between 1,000 and 2,000 people, depending on who was counting.
Another chap named Ron Gilmore, who worked as a ball boy for the original Earthquakes from 1974 to 1984, a guy who has miraculously kept in touch with almost all of those players since then—no matter where they happen to live, took it upon himself to organize a 30th anniversary reunion and bring as many of them as he could back to San Jose in conjunction with the rally, in order to show their support for keeping the team here. Working with the help of the then Quakes organization, they accomplished that task. At the time, yours truly tracked down Krazy George's phone number in New York, relayed it to Gilmore, and he facilitated George's presence at the rally, since a 1974–2004 Quakes anniversary without Krazy George would be a travesty of justice, as he began his pro career with them. At the rally, I showed Krazy George a 1983 photo of him in a Quakes shirt shaking hands with then Mayor Tom McEnery to welcome in that season, but George said he didn't remember the mayor's name.
Leading up to the rally, and unbeknownst to any of the rally's organizers and participants, Gilmore and myself had hatched a crackpot plan to have Krazy George show up to the rally hidden inside a police car, and then to have the cops pretend like they were busting up the rally, only to have George suddenly jump out of the car at the last second while bashing on his snare drum—exactly like something he would have pulled at the old Quakes games in the '70s. Unfortunately, George didn't go along with the idea. Instead, he wanted everyone to know in advance that he was going to show up, so the stunt never happened—but the spirit was there.
Contact Gary Singh or send a letter to the editor about this story.