June 20-26, 2007
home | metro silicon valley index | silicon valley restaurants | review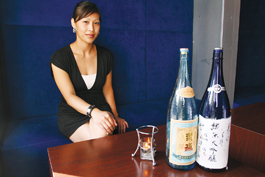 Photograph by Felipe Buitrago
Only the best: Kathy Tran, co-owner of Koji Sake Lounge, has brought the sake cool to San Jose.
Premium Trend
Koji sake lounge brings Japanese cool to San Jose scene
By Stett Holbrook
PEOPLE DON'T GO to bars to be reminded of where they live. They go for escape. I'm not talking about getting lost in an alcoholic fog. You can do that anywhere. Bars and lounges, the good ones, make you feel cooler, sexier than you really are. They cast a spell of youth and possibility as you raise a glass in a crowd of those seeking a mental holiday, a vision of being someplace else, if only for just a couple rounds of drinks.
San Jose's Koji Sake Lounge is just such a place. When the mood is right and the music is dialed in to match the vibe in the dimly lit, blue-hued room, and the light rail train clatters outside the open door on a warm night, it's easy to imagine you're somewhere else. Tokyo? Vancouver? Whatever. It certainly doesn't feel like South First Street in San Jose.
In spite of Koji's well-tuned atmosphere, it's the selection of sakes that really sets the tone. There are bars that specialize in syrupy sweet, fruity martinis, those that pour beer by the gallons for thirsty frat boys, and Bukowski-haunted dives that serve stiff drinks made with cheap booze to the professional, solitary drinker. A sake bar attracts a different crowd that's out for something other than a night of mojitos and vodka Red Bulls.
Kathy Tran and her boyfriend Tony Tran opened Koji May 1. She fell for the flavor and premium quality sake and trekked to San Francisco and beyond to seek it out. "When I took my first sip, I said, 'Whoa, I've never had anything like this,'" she says. Kathy followed her passion and has given Silicon Valley its one-and-only sake lounge. Koji takes its name from the yeast that brewers use in making sake.
The blue décor inside Koji and the blue concentric circles that form the "o" of Koji's logo come from a kiki-choko, a porcelain sake cup used by official sake tasters and judges. Inside the cup are blue rings that are designed to help discern the sake's quality. When sake is poured into a kiki-choko, the critical drinker looks into the glass and focuses on where the edge of the blue circles meets the white background. If the border looks diffused or less than crystal clear, the sake is probably not at its prime, but sharp, well-defined borders mean the sake probably is too.
While demand for sake is dropping in Japan, it's booming here. Although more Japanese restaurants and some non-Japanese restaurants are serving premium quality sake, it's often hard to get much information about it from the servers, and unless you read Japanese, bottle labels are no help.
Here's a quick primer. Premium sake is divided into three classes: daiginjo, ginjo and junmai. To make sake, rice grains are "polished" to remove the outer layers of the grain. Polishing the rice removes impurities and makes for a smoother, purer sake. Daiginjo, the highest grade of sake, has at least 50 percent of the rice milled away. Ginjo has at least 40 percent milled away and junmai 30 percent.
If you can't remember all that, don't worry. Stop into Koji and they'll set you straight. Unlike many sake lists, Koji's includes tasting notes that help you find a flavor profile that suits your tastes. Beau Timken, master sake sommelier and owner of San Francisco's True Sake, the world's first sake shop, helped Tran put her list together, so you know it's a good one.
Koji offers sakes of each grade as well as a few special sakes like a sparkling sake and sweet, unfiltered nigori sake. Too bad there isn't more sochu, a similar tasting but boozier beverage distilled from rice, barley, sweet potato and other starches. There are an increasing number of premium sochus available in the United States, and they too are worthy of exploration.
The sakes have romantic, poetic names like "brilliant jade" and "snow flower." One of the table favorites on my visit was the Yaegaki Mu "Nothingness" ($9, glass), a rarefied, clean sake with invigorating flavor and sharp structure that tasted like a glass of glacier melt—or what I imagine glacier melt to taste like. The two sake flights pair a daiginjo, ginjo and junmai and allow you to compare the different grades. The "east" sake flight ($13) pairs the Otokoyama "Man's Mountain" junmai, the Bishonen "Beautiful Boy" ginjo and the great Wakatake Onikoroshi "demon slayer," a rich, smooth but potent daiginjo.
The bar also makes a number of sake and sochu cocktails, but for me mixing sake is a waste of perfectly good sake. You won't find a better lineup of top grade sake in the South Bay and they deserve the attention, not the sake-based approximations of martinis, mojitos and bloody Marys.
While it's designed to play a secondary role, Koji offers a small but appealing food menu, including boiled edamame ($4), ahi tartar with mango salsa and seaweed salad ($12) and scallop and shrimp ceviche ($12).
Koji is a welcome addition to San Jose's slowly stirring downtown scene. To step inside is to be taken somewhere far away. The mood is only broken when you step back outside. My advice: stay a little longer and savor another sake.
---
Koji Sake Lounge
Address: 48 S. First St., San Jose.
Phone: 408.287.7199.
Hours: Tue–Sat 6pm–late.
Price Range: $$$$
Send a letter to the editor about this story.