June 20-26, 2007
home | metro silicon valley index | the arts | visual arts | review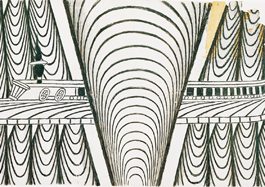 Collection of Estelle E. Friedman/photo by Edward Owen, Washington, D.C.
Rail power: Martín Ramírez's 'Untitled (Train and Tunnel)' was created around 1950, while he was in the DeWitt State Hospital in Auburn. Click here to see a full-size version of the above image.
Train He Rides
Shows at S.J. Museum of Art and Mexican Heritage Plaza reveal the life and art of an unsung master, Martín Ramírez
By Michael S. Gant
FOR SOMEONE who spent most of his life warehoused in an institution, the lure of the train must have been irresistible. The movement, the possibility of freedom, the chance of change all combine in potent fashion for the confined man with a free imagination.
The remarkable Mexican-American artist Martín Ramírez was committed to Stockton State Hospital in 1931 and transferred, in 1948, to DeWitt State Hospital in Auburn, where he remained until his death, in 1963. He is known to have made several early escape attempts, perhaps hoping to hop a freight and clickety-clack away from doctors, orderlies and keepers.
Later, he exercised that urge in a marvelous body of work, a generous sampling of which is now on display at the San Jose Museum of Art in a traveling exhibit from the American Folk Art Museum; the exhibit is complemented by a show of artifacts about Ramírez that is running concurrently at the Mexican Heritage Plaza.
Ramírez fills his drawings, paintings and collages with rushing trains—steam locomotives, streamliners, boxy trolleys, bizarre futuristic transporters. He renders F7 engines and Santa Fe Super Chiefs with a realistic verve; one train collaged from a magazine ad depicts the sloping nose of a Rock Island Line diesel. Ramírez's trains often pull long, snaking consists of tubular passenger cars. From one end of narrow horizontal vistas, they roar out of portals, zip by us and disappear into tunnel mouths leading to unknown destinations. And always, Ramírez, delineates the rails and each individual wooden tie with a gandy dancer's eye.
The sere landscapes these trains traverse feature details—a pair of startled, antlered deer, Spanish colonial–era churches, adobe haciendas—conjured from Ramírez's memory of his homeland in the state of Jalisco. Trains are hardly the only motifs in Ramírez's substantial portfolio, but they carry a special biographical charge—Ramírez came to the United States in the 1920s to work on the railroads. When the Depression hit, many immigrants were sent back to Mexico on those trains, but Ramírez made a fateful decision to remain.
Ramírez's artworks, filled to bursting with an inexhaustible supply of ideas and techniques, can and should be enjoyed for their sensuous appeal. In his use of nesting curves and marching bands of shadow and stubby horizontal lines, Ramírez proves himself a master pattern maker with an unerring sense of visual rhythm.
His legacy, however, has proven to be inextricable from his biography. Ramírez's drawings first came to attention as long ago as the early 1950s, when a Finnish-American psychologist and artist named Tarmo Pasto met him at DeWitt and arranged to have some of his pieces shown in an exhibit of the art of the mentally ill, or "Psychotic Art."
Over the years, misinformation about Ramírez's life—his birth and death dates, where he was first arrested; he was mute, or at least never spoke—proliferated. This identity fog only added to Ramírez's art-world aura as a man of mystery.
In recent years, thanks to the tireless research of Víctor M. Espinosa (whose essay, with Kristin E. Espinosa, in the catalog for the show is invaluable), many particulars about Ramírez have come into focus. He was born in 1895 in Rincon de Velázquez near the small town of Tepatitlán, east of Guadalajara in the state of Jalisco.
Los Altos de Jalisco, the region of his birth, maintained a strong Catholic tradition, and Ramírez absorbed a great deal of Catholic imagery. Much of that early exposure to church statues and paintings showed up years later in his art, especially in his monumental paintings of Our Lady of the Immaculate Conception. A photograph in the Heritage Plaza exhibit shows a local statue of the Virgin with the iconographic detail of Mary stepping on the serpent—a detail that Ramírez uses several times in his Madonna portraits.
An accomplished horseman and hunter, Ramírez worked as a sharecropper, marrying and fathering four children. In 1923, he brought a small ranchería of his own. The purchase left him with a debt that he could not finance through the banking system of the time, so he decided to move north. As Espinosa tells me during a walk-through at the Heritage Plaza, at that time, most Mexican immigrants were not desperately poor but actually lower-middle-class people looking to better themselves, to accumulate some capital to bootstrap their economic circumstances.
Ramírez left Mexico in 1925 and worked his way, on railroads and in mines, to California, sending letters home, letters with money and sometimes, descendents have told Espinosa, with drawings in the margins, indications that Ramírez's aesthetic urges predate his commitment to a mental hospital, and may have been more than just therapeutic release.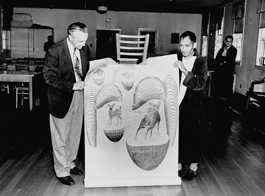 Courtesy of Phyllis Kind Gallery and Associated Press news photo
Contact: Martín Ramírez (right) and psychologist and artist Tarmo Pasto hold up one of Ramírez's works at DeWitt. (Full-size version)
Two disparate historical events converged to conspire against Ramírez's plans. Shortly after his departure, the Cristero Rebellion broke out in Mexico, pitting armed Catholics against the anti-clerical revolutionary government. The fighting, which swept through Jalisco, was often fierce and extremely bloody, as indicated in several horrific photographs at the Heritage Plaza. Small landholders were forced to give up their properties.
In one tense incident, Ramírez's wife, María Santa Ana, saved Ramírez's brother from execution at the hands of the Federal Army troops. The explanation for what happened was garbled in a letter, and Ramírez wrongly believed that his wife had switched sides and gone over to the Federal Army; he decided never to return to Mexico, cutting himself off from family and tradition.
A few years later, the Great Depression struck, and with the economic hardships came resentment against Mexican immigrants, who were often hustled back to Mexico. Ramírez evaded deportation but soon ran afoul of the law. He was arrested by the San Joaquin County Police in 1931, mostly for being an antisocial loiterer.
The authorities sent him to Stockton State Hospital, where he was initially judged to be manic depressive. At this point, Ramírez's biography merges into larger issues of how California's notorious mental-health system functioned in the 1930s, '40s and '50s. Diagnoses often became self-fulfilling prophesies. I take it as a sign of some kind of good health that Ramírez tried to run away. Each time, though, he found California to be a difficult place to survive for an immigrant. Without the option of going home to Mexico, Ramírez returned to the hospital.
Later, Auburn's DeWitt proved to be relatively amenable. According to Espinosa, since Ramírez was considered to be an incurable schizophrenic, he was not given shock treatments or subjected to other extreme psychiatric interventions. Patients were allowed access to art materials and, significantly, to a library of donated magazines, which Ramírez used as an image bank and as source materials for collages. We know that Ramírez began drawing before 1948, but what we have of his work, approximately 300 pieces in all, dates from his time at DeWitt, preserved through the efforts of Pasto and sympathetic employees.
Working against heavy odds, Ramírez used whatever material fell to hand, often composing on unfolded paper bags. In many of the pieces at the San Jose show, the carefully smoothed-out wrinkles add texture to the paintings, and sometimes Ramírez even left the handle of a paper bag attached, as if to make the art easier to carry. Often, the pieces are assembled from scraps of paper carefully glued together. Here and there, clipping and cutting from those magazines, Ramírez collaged commercial images on top of his elaborate curvilinear patterns.
The effect is especially striking in an untitled scroll piece in which a well-coifed American woman from ad-land looms over a well holding a dangling rope attached to a drawing of a tiny man, an image often interpreted as referring to his troubled relationship to his wife.
He used pencils for drawing and added color with pigments he fashioned from melted crayons, fruit juices and saliva, carefully mixed in pots he made himself. Such dedication seems downright heroic —an artist pushing through without any of the material support that is usually taken for granted.

Collection of Jennifer Pinto Safian/photo by Gavin shworth, New York
Men at work: In 'Untitled (The Three Scribes),' Ramírez may be slyly portraying himself in triplicate as an artist at work dreaming up far-away worlds. (Full-size version)
Much of the discussion about Ramírez now centers on the nearly impossible task of defining—what to call it?—outsider art, vernacular art, self-taught art, eccentric art. Somehow, the notion of an artist who didn't go to art school and doesn't have a representative and a New York gallery to set prices in the marketplace makes academic critics jittery (and raises the question: If there are outsider artists, can there be outsider critics?).
These days, when some so-called outsider artists have their own websites, the argument gets really tricky. Ramírez was diagnosed as a schizophrenic, but in light of R.D. Laing, what does that really mean? Van Gogh spent time in a clinic, but no one calls him an outsider artist. Clearly, in his time and place, Ramírez was victimized by a socially determined psychological judgment by a system that didn't know what do to with immigrants during an economic downtown.
Of course, we have no testimony from the artist himself about his motives and meanings on which to build. Espinosa believes that Ramírez's reputed muteness was really a reaction to language barriers. Ramírez, who did not learn English, had to communicate with doctors through translators. At some point, Espinosa speculates, Ramírez may have realized that the doctors weren't going to help him, and so he simply stopped bothering to talk to them.
Ramírez was self-taught, but that doesn't mean he wasn't capable of making some extremely sophisticated aesthetic choices. Clearly, he retained an exceptional memory for the images of his time in Mexico; he also saw and internalized a great deal on his travels and work in the United States. In DeWitt, he took in a wide range of graphic arts in magazines and newspapers.
We can only speculate about Ramírez's knowledge of contemporary art, although we do know that Pasto served as a conduit to the outside world and that artists visited Ramírez at DeWitt. Ramírez's collage pieces, especially a triumphantly large Untitled (Landscape), are full of appropriated images scattered throughout his drawings of Mexican motifs. The verve of Ramírez's collages distinctly recalls the works recently shown in the San Jose Museum of Art's Jess exhibit.
In another historical coincidence, Ramírez's crayon and pencil drawings of caravans of tiny identical automobiles streaming into tunnels uncannily bring to mind Irving Norman's Awakening of the City (part of San Jose Museum of Art's permanent collection), in which lanes crowded with small cars plug into looming high-rises. Although he attended the California School of Fine Arts, Norman practiced a brand of surrealist narrative with a strong anti-capitalist theme that made him something of an outsider, too.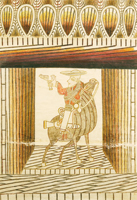 Collection of David Manilow/photo by William H. Bengtson, Chicago
Mounted: Sharpshooting horsemen are a recurring theme in Ramírez's work. (Full-size version)
Thanks to Espinosa's biographical spadework, we can see the roots of what used to seem strange and otherworldly in Ramírez's pictorial universe.
What appear at first glance to be somewhat naive, even cartoonish, figures of armed horsemen turn out to be studiously rendered and often reworked caballeros displayed in variously designed and colored proscenium stage sets. This might be a gentle boast from Ramírez, a way of saying, This is how I used to be, an expert rider and sharpshooter.
In one piece (not in the show), Ramírez has wittily collaged together the photograph of a horse's front end with his own perfectly matched drawing of the back end.
The marvelous Untitled (Tunnel With Man, Woman and Dog) is bordered on one side by a field of oval shapes that resemble the pads on a prickly pear cactus. Peering from a square frame is a quizzical, friendly dog like the ones in Roy DeForest paintings. Especially fascinating is Untitled (Skeleton) in which a calavera playing a violin suggests a link to the rich strain of Mexican art and satire represented by the bone people of Posada.
At times, Ramírez lets his penchant for pattern making slide all the way into abstraction. Untitled (Vertical Landscape), ostensibly a pathway through abutting hillocks, is an exercise in vertical energy. A hooked line plunges through a cascade of nesting semicircular lines to end in a flowing sweep at the bottom of the drawing.
Among all the wonders at the Ramírez show, I am most taken by an Untitled (Landscape) that acts as a kind of monumental statement of Ramírez's unique perspective on the three worlds—Mexico, America, institution—that he inhabited.
This piece, at 40–by–105 inches the largest on display, features a whole landscape of churches and towers surrounded by fields and small adobe homes; several different trains march in and out of elaborate tunnel mouths; a hybrid Madonna figure perches on a cafe umbrella; a horseman with bandolier gallops past. Across the top marches a line of collaged cars from ads, representing a history of American sedans, mingled with Ramírez's drawings of buglike vehicles. In the lower right-hand corner, he has pasted photographs of traditional farm activities taken from a textbook.
Dominating the right side of the work is a large illuminated letter, an elaborate "R" with many foliations and a small inset face. Ramírez didn't sign his pieces, but surely this is his exuberant maker's mark.
Ramírez may have proclaimed himself in another work in which a man seated at a desk—an artist's table perhaps—is juxtaposed with one of those trains passing outside a deeply recessed window. Could this be Ramírez's self-portrait—a confined man opening his doors of perception to a vast world of imagination?
Martín Ramírez shows through Sept. 9 at the San Jose Museum of Art, 110 S. Market St., San Jose. The museum is open Tuesday–Sunday, 11am–5pm. Admission is $5/$8. (408.271.6840)
The Worlds of Martín Ramírez shows through Sept. 9 at the Mexican Heritage Plaza, 1700 Alum Rock Road, San Jose. The museum is open Monday–Saturday, noon–5pm. Admission is free. (408.928.5563)
El Mundo de Martín Ramírez, a talk by Victor Espinosa, takes place Thursday (June 21) at 7pm at the Mexican Heritage Plaza. Tickets are $5/$8.
Martín Ramírez: Motifs and Memory, a talk by American Folk Art Museum curator Brooke Davis Anderson, takes place July 19 at 7pm at the Mexican Heritage Plaza. Tickets are $5/$8.
Send a letter to the editor about this story.