June 20-26, 2007
home | metro silicon valley index | movies | current reviews | film review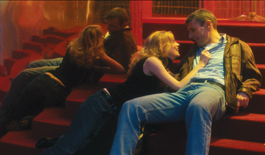 Double your pleasure: Lambert Wilson and Isabelle Carré cozy up to a mirror in 'Private Fears in Public Places.'
Fear Monger
Alain Resnais explores the 'Private Fears in Public Places' of six men and women
By Richard von Busack
FORTY YEARS AGO, prowling the grounds at Marienbad, Alain Resnais observed the masks characters wear to protect themselves from the emotional demands of others. In Private Fears in Public Places, based on Alan Ayckbourn's play, Resnais uses recurring motifs: veils, curtains, walls between the characters. The seven men and women here communicate around the corners of these barricades, like soldiers under fire. The action takes place during the course of steadily falling snow flurries—which, in one fantasy scene, begin to drift from the ceiling indoors. In a new condo building, the realtor Thierry (André Dussollier, very dry, very droll) shows a rigidly correct woman named Nicolle (Laura Morante) a supposedly two-bedroom apartment that is in fact just an ineptly divided single; she goes home to her slothful fiance, Dan (Lambert Wilson). They want the home for different reasons, anyway: Dan desires a writing room, which will more likely be a recovery room for his hangovers; Nicole would rather have a nursery for the baby they ought to have.
Thierry returns to his office, which he shares with his secretary, Charlotte (Sabine Azéma), a devout Christian, who offers her boss tapes of her favorite inspirational show, Songs That Changed My Life. Thierry dutifully watches one of the featured hymns: a dire manly-man's version of "Onward, Christian Soldiers" so full of vibrato that it sounds like it was warbled by a goat. The appalled Thierry is about to switch the tape off when it becomes a candid film of Charlotte dancing in her corset and stockings. Unfortunately, the face is obscured, so he can't be sure it really is her. At night, Charlotte does some work for a bartender called Lionel (Pierre Arditi), baby-sitting his dad, a bedridden old man who throws things at his nurses and tells Charlotte, "Get back to your kennel, you bitch!" At Lionel's bar, lay-about Dan soaks up the cocktails and tries to charm Gaelle (Isabelle Carré), Thierry's sister.
The chic look is appealing, and the 50 or so short scenes keep claustrophobia from building up. Resnais has lost none of his eye for décor: scenes include a retro go-go bar with plastic molded chairs and beaded curtains. Thierry has a plastic privacy barrier between himself and Charlotte; it is not much more effective than Maxwell Smart's "Cone of Silence." Resnais has been superb with opening-up interiors for a long time. It's possible that in his Mon oncle D'Amérique (1980), he may have been the first to coast his camera along the tops of rooms, showing them as a warren or a maze open to the God's-eye view—a shot seen later in Minority Report by Spielberg and Snake Eyes by De Palma. What Resnais can't conquer is Private Fears in Public Place's quality of being a stage play transferred to film. The crisp enunciation of the actors is meant (possibly deliberately) to argue this manifold story as if from a theater stage. One admires the film's civilization, its taste and its melancholy wit. The truth is that there's the distinct possibility of enjoying it and admiring it and still succumbing to a short doze midway through.

Private Fears in Public Places ( Unrated; 120 min.), directed by Alain Resnais, written by Jean-Michel Ribes, based on the play by Alan Ayckbourn, photographed by Eric Gautier and starring Sabine Azéma and Lambert Wilson, opens June 22 at Camera 12 in San Jose.
Send a letter to the editor about this story.