June 21-27, 2006
home | metro silicon valley index | silicon valley restaurants | review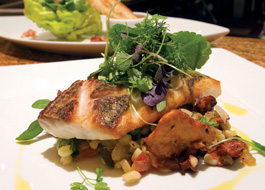 Photograph by Felipe Buitrago
Now, that's a fresh fish: The moment the Copper River salmon went out of season, it was replaced by this Alaskan ivory salmon.
Bundle Of Joy
Santa Clara's Parcel 104 is one of Silicon Valley's best-kept secrets
By Stett Holbrook
WHEN Metro reviewed Parcel 104 back in 2002, former restaurant critic Christina Waters pronounced her meal a bewitching experience. Four years later, the restaurant still casts a spell with its stridently seasonal, ingredient-driven menu of new American food.
Few restaurants in Silicon Valley come close to the caliber of the food at Parcel 104; chef Bart Hosmer has made the restaurant one of the South Bay's must-eats. Add a clubby, comfortable dining room, polished service and a wine list presided over by a master sommelier (one of only 120 in the world) and you're in pretty good hands. The only thing the restaurant doesn't have going for it is its location.
Parcel 104 is located in the Santa Clara Marriott hotel, and is close enough to Paramount's Great America that you can hear the screams from people riding roller coasters. The area feels brand new and corporate. Pedestrians are a rare sight. It's as if Parcel 104 occupies a restaurant green zone removed from the rest of Silicon Valley and reserved for hotel guests and business travelers out for expense-account meals.
Partnering with the Marriott was no doubt a lucrative business decision for restaurant co-owner Bradley Ogden. Ogden is chef and co-owner of the Lark Creek Restaurant Group and has since opened another restaurant, Alterra, at a Marriott in San Diego. Lark Creek also owns One Market in San Francisco, the Lark Creek Inn and Yankee Pier Larkspur, Yankee Pier in San Jose and the celebrated Bradley Ogden restaurant in Las Vegas.
I'm convinced that if Parcel 104 had a more central location like downtown San Jose or Los Gatos, the restaurant would be more of a household name. But for those who know, the restaurant is a gem.
The ever-changing dinner menu is divided into a three-course meal for $54 and multicourse tasting menus that range from $39 to $68. No matter what you choose, the menu reads like a road map of regional farms, ranches and cheese makers. The restaurant bills itself as "seasonal, farm fresh American fare" and it delivers. If the world's calendars suddenly disappeared tomorrow, a look at the asparagus, fresh morel mushrooms and Copper River salmon on the menu would tell you it's June.
For my visits, I went with the three-course meals. I'm still thinking about one of the first courses I tried, a mushroom salad made with fresh porcini, morel and chanterelle mushrooms. The plump mushrooms were roasted and chilled slightly and then lightly anointed in a spright vinaigrette. Because of their short season and unpredictable harvest, fresh wild mushrooms are a fleeting pleasure. In fact, on my next visit they were off the menu, but I feel like I made the most of the moment with these spring delicacies.
I also loved the Little Gems lettuce salad, a small, well-composed salad that features a tiny head of butter lettuce opened like a ripe rose. The buttery crunch of the lettuce is the perfect foil for the sweet tang of the roasted peach vinaigrette. The licorice hint of shaved fennel and the pungent bite of the Berkshire blue cheese made for a lively, refreshing salad.
And then there was the asparagus salad, a few staffs of snappingly fresh stalks atop a smoky sweet jumble of "Sweet 100" cherry tomatoes and roasted eggplant. Chef Hosmer adds flavors with the precision of a jeweler, and the inclusion of a papery slice of Hobb's prosciutto into the mix added just the right salty note.
The only starter that missed, if only slightly, was the Sonoma foie gras "PB&J" croissant sandwich. The foie gras itself was impeccable, beautifully caramelized and fatty rich inside. But the pairing of peanut butter cream cheapened the dish. That's disappointing when the dish carries a $9 supplemental charge. The berry compote and tiny croissant served with it would have sufficed.
Seafood dishes are a sure bet at Parcel 104. The fish on your plate was probably swimming less than 36 hours ago. Take the Copper River salmon. The season of these Alaskan fish only lasts three or four weeks. Indeed, on my next visit it was off the menu and replaced by Alaskan ivory salmon. It's good, but not quite as rich as the Copper River fish. In both cases, the fish was pan-roasted just past medium rare and dusted with a sea salt-dill crust. Delicious.
For me, duck confit is a good measure of a chef's skill. It's a multiday, salt-curing process that can turn to a salty mess in lesser hands. Hosmer's version was textbook perfect, crisp and juicy chunks of shredded duck with the sodium level kept well in check. The tall stack of rosemary spoon bread and minty fava beans rounded things out.
I expected great things from the Four Story Hill Farm lamb tasting. Because lamb from this farm is such a premium product it carries an additional $12 charge. The dish combines lamb sausage in a fresh garbanzo bean stew, braised leg with mushrooms and a lamb T-bone with risotto. It was all good, but didn't live up to the hype. The tiny T-bone was tender and juicy, but more bone than meat. The leg, while expertly cooked, didn't rise above pretty good. The rich, meaty sausage stew was best.
Pastry chef Carlos Sanchez is a fan of the "sampler plate" school of desserts: an array of tiny desserts on one plate that riff on one theme. As such, some are better than others. Go for the "104" classics—satiny crème brûlée, French toast, a gilded tapioca pudding and watermelon agua fresca, a good if somewhat incongruous fruity drink.
I had the same waiter on both visits and he was smooth, professional and friendly. It's rare in Silicon Valley to find a server who is so well versed in the menu, but our waiter went a bit overboard at times as he narrated most of the menu. I appreciated the depth of his knowledge and enthusiasm but his compulsory spiel bordered on information overload.
Business travelers and conventioneers staying at the Marriott keep the restaurant busy. But why let those traveling corporate execs have all the fun? Silicon Valley is lucky to have a restaurant like Parcel 104 and it deserves an even greater local following.
---
Parcel 104
Address: 2700 Mission College Blvd., Santa Clara.
Phone: 408.970.6104.
Hours: Breakfast 6-10am Mon-Fri and 7-11am Sat-Sun, lunch 11:30am-2pm Mon-Fri and dinner 5:30-9pm Mon-Sat.
Cuisine: New American.
Price Range: $38-$68.
Send a letter to the editor about this story.