06.24.09
home | metro silicon valley index | columns | silicon alleys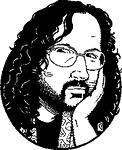 Farewell, Johnny V's
Turns out the address of 31 E. Santa Clara St. is steeped in history and a quick visit to the California Room at the Main Library filled in the gaps
By Gary Singh
THIS SUNDAY marks the final blowout gig at one of downtown San Jose's most popular dive bars and longstanding supporters of live underground music, Johnny V's. The address of 31 E. Santa Clara St. will never be the same.
Now, there are two threads I must embroider on this one. First, Johnny's has meant so much to so many of its bartenders and regular customers over the last six years that even by last week, several folks were already posting memories of the place on Facebook--bands they saw, friends they met, hookups that happened or gigs that went down. I can personally vouch for one Silicon Alleys column and one news story in particular that featured scenes in that bar. But even more, there exists a rich history behind that street address, going back to 1912, when Santa Clara Street was a dirt road.
Recently, Johnny's was the quintessential hole-in-the-wall dive where you could just pop in and see some loud bands a few nights a week. Touring rock acts would play for next to nothing. Every New Year's Day, Johnny's would open at 6am and cater to those who were still up partying. Legendary DJs like Rick Preston or Harry Whoo would usually be at the decks for what was a highly popular affair.
For me personally, some intrepid reportage I penned in 2005 would not have succeeded without Johnny V's. In what turned out to be a scream of a story, I hit the meat-market bars with a $50-an-hour paid female wingman from ladywingmen.com as an assistant to hit on women. After tripping through an art reception and then the jock bars, we wound up at Johnny V's, with her schooling me on pickup techniques as I scoped out the cute female bartenders.
One year later, in this space, I referred to Johnny V's as the "Beverly Hills of the Santa Clara Street block between First and Second." You see, I had just returned from some freelance business at the Beverly Hills Hilton and after flying back to San Jose, I went straight to a show by local punk legends, the Forgotten, at Johnny V's. So I compared and contrasted the corner of Wilshire and Santa Monica boulevards in Beverly Hills with the garbage, the bums, the homeless, the dealers, the halfway-house inhabitants and the urine and empty soup cans that comprised the corner of First and Santa Clara three years ago. At least for a few days, that column was on the wall inside Johnny V's.
From 1912 straight up until sometime in the mid-'80s, this address housed the Oyster Loaf Café. Croatian-born Frank Arnerich was the proprietor for the first 46 years of the eatery's existence until he retired and turned it over to new owners in 1958. According to a San Jose Mercury News column from the late '60s, one Mr. Jus Minjoulet had dined at the Oyster Loaf almost every day for 55 straight years.
Mr. Arnerich's story is quite an interesting one. According to a Sept. 20, 1975, obituary in the Mercury News, he came to San Jose in 1907 at the age of 18 and then opened the restaurant five years later. He went on to become both a civic leader and one of the best bowlers on the West Coast. He often told stories of how First and Santa Clara was a dirt intersection when he first opened the Oyster Loaf Café. He was a member of many fraternal organizations and his descendents still live in the area.
By the time the 1990s rolled around, an Irish bar and restaurant called Paddy's opened at the same location. To this author's recollection, it was the first nonsmoking bar in San Jose, before those laws even emerged. After that, the venue degenerated into an absolute dump called Tremor's before Johnny resurrected the place and brought in live rock bands. With glasses raised on high, I salute 31 E. Santa Clara St.
Got a great Johnny's memory? Let us know at [email protected]  
Contact Gary Singh or send a letter to the editor about this story.