06.24.09
home | metro silicon valley index | music & nightlife | band review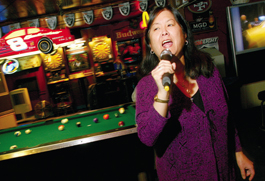 Photograph by Felipe Buitrago
Blue Bonnet's on it: Carol Matsumoto rocks the mic at the Blue Bonnet Bar during karaoke.
Bars & Clubs the Sequel
By Colleen Watson
NOW THAT the dust has settled and the emails have been absorbed, some corrections and additions are in order for our 2009 Bars & Clubs issue. We were trying to cover every bar in the South Bay and probably had a few too many and got a trifle distracted now and then, and for that we apologize, but then you'll just have to stop pouring us such strong, delicious beverages.
The first correction is the Escape (2942 S. Bascom Ave.; 408.377.5436) in San Jose. We must have been seeing double when we walked in the neighbor bar, as it has only one pool table not two. The bartender I talked to was a nice woman who poured me a cold pint (full disclosure: I think anyone who pours me a cold pint is nice). At the time of my trip, the bar boasted a mix of blue- and white-collar workers who kept requesting country and classic rock from the jukebox, and there wasn't a Harley to be seen, although there were a bunch of beach cruisers parked out front.
Next we head to Sunnyvale and the Blue Bonnet Bar (208 S. Fairoaks Ave.; 408.245.6651). With three pool tables and a Demolishman-themed pinball, the place scores big points with old-school gamers. To top it off, three nights a week (Monday, Wednesday and Thursday) the Blue Bonnet hosts a wide range of karaoke singers. And along with those bowls of peanuts that you can find throughout the bar, the Blue Bonnet features a Sunday barbecue all year long.
We didn't do full justice to the Boulevard Tavern in Los Gatos (15043 Los Gatos Blvd.; 408.358.0774). The crowd is actually quite diverse, and the ages run the gamut. The bar boasts a pool tournament on Tuesdays, karaoke on Thursdays and live music on Fridays, so there is something for everyone. It's a pretty laid-back place during the week but it can get bumpin' on the weekends.
Also, in the name of full disclosure, we somehow overlooked Sunnyvale's venerable Hiphugger (948 W. El Camino Real; 408.736.8585), perhaps because the accounting department said no way would they reimburse for the club's "tip on the hip" policy. The Hiphugger features a weekly pool competition, a midday happy hour with drinks half-off from 11am to 1pm, TV sets and video machines, no cover charge and live exotic dancers.
If we are forgetting anything or you know of some cool event or place we should check out, please email our Club Scene reporter at [email protected]
Send a letter to the editor about this story.