06.24.09
home | metro silicon valley index | movies | current reviews | film review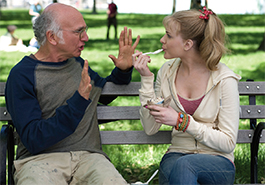 Photograph Jessica Miglio, © Gravier Productions, Courtesy of Sony Pictures Classics
BENCHWORK: Larry David rants and raves for the benefit of Rachel Evan Wood in 'Whatever Works.'
Doctor Manhattan
Woody Allen's 'Whatever Works' is a thin, slick comedy that stands by its title: it does work
By Richard von Busack
THE LOVE of the last word is the province of comedians; when you put someone down you want them to stay down. Over the now traditional white-on-black titles of Whatever Works, the new Woody Allen movie, Groucho Marx sings, "Hello, I Must Be Going." The reference is surely to Groucho's own habit of spraying a thin layer of derision around the room.
The main character here is Larry David's Boris Yellnikoff. Though he's Jewish and from the outer boroughs, really he's a Scandinavian/Germanic-style misanthrope, the type that Max von Sydow played seriously in Hannah and Her Sisters, with remarkably similar dialogue. It's cinema tragedy reinvented as a standup act. Whatever Works is a weird mix of Ibsen and Doc Simon.
Boris addresses an audience only he can see. He sports a terrible limp from his suicide attempt years previously. He was formerly a physics professor, shortlisted for the Nobel Prize ("It was all politics, just like any award"); today, he is retired, a free-range castigator, teaching chess (brutally) to children and living in a brick-lined vault in Manhattan's Chinatown. Art director Santo Loquasto's triumph is the most hovelish interior ever seen in a Woody Allen film, at least for a character not actually a junkie or an alcoholic.
One evening, Boris finds a girl curled up on a piece of cardboard under his fire escape. The waif is Melodie St. Anne Celeste (Evan Rachel Wood), a former Mississippi beauty queen who fled the Deep South and has no plans. Boris reluctantly puts her up, treats her to copious insults, such as "inchworm" and "subnormal." At his wittiest, he compares Melodie to Benjy in The Sound and the Fury.
He takes her to the New York sites she wants to see. (She may be the only Mississippi girl who has ever wanted to visit Grant's Tomb.) Cinematographer Harris Savides, a Gus Van Sant veteran and the photographer of Margot at the Wedding, brings up a danker, smoggier version of the tropic humidity in New York that Zhao Fei got for Allen in Small Time Crooks. It's permanent summer in this film, all the better to use Wood for her decorative qualities. She wriggles around in one tiny outfit after another, flashing her showgirl-quality legs, while Boris wanders around in untidy Bermuda shorts and sweatshirts.
Melodie takes Boris' imprint completely--his rants, his phobias and his dislike of sex--and marries him. A year afterward, the in-laws arrive for a first visit: Marietta (Patricia Clarkson) believes that she has tracked her runaway daughter down and is outraged to find the girl married to a neurotic man old enough to be her grandfather. Soon thereafter, Marietta's estranged husband (Ed Begley Jr.) shows up in the apartment.
The lines--at least every third line--are funny. People have been saying that it's Larry David who took Allen's imprint. Rather, David is part of a chain of sarcasm whose links include Groucho, S.J. Perelman, Harvey Pekar, Robert Crumb and Allen. It'll be the end of the line soon. Styles of disappointment change, and the next dynasty is bound to be as anti-intellectual as they are anti-everything else. 
Clarkson is good, of course, as a scratching post for Boris the grouch--a hybrid sort of Margaret DuBois or Blanche Dumont. Marietta even gasps, "You're not the gentleman I was expecting"--a play reference in a movie that's a bit too much like a play anyway. But she advances the action by introducing Melodie to a younger, better-looking and seemingly more suitable man, Randy (Henry Cavill), as flat as the handsome prince in a prep-school play.
Whatever Works is based on a script Allen had in his drawer for several decades, and it looks it. The audience laughs indulgently at a scene of one character being picked up by a gay man, with moldy dialogue that might have been laughable 40 years ago. The homosexual refers to his ex-lover as "my wife" so that his naive pickup-to-be replies, "Is your mother a woman?" 
Despite that canned corn, Allen knows how to make a civilized comedy even when denouncing civilization. The film strokes a left-wing audience's prejudices: the blows against Reagan and W in wax statue form--this is like beating a stuffed lion, though. The atheism, however, is tart: Boris says, "My favorite biblical character is Job's wife. She chose death over obsequious acceptance, unlike that man she married"; glib as this might be, it isn't a line you will hear in any one else's movie.
David's sneer is as effective here as it is on Curb Your Enthusiasm, yet it's hard to handle the eventual humanizing of Boris. If you see the universe as a violent machine that's running down, why are you warmed--as Boris is--by the miracle of unlikely birth, of the astronomical odds resulting in people. What does a miracle matter, if it only leads to disaster? This wonder-of-life argument is the same argument that led the icy physics professor Dr. Manhattan back to humanity in Watchmen, and it's not any more believable here. And when we're meant to feel for Boris after he wakes up the building with a panic attack in the middle of the night, screaming "The horror, the horror!" Allen presumes that the audience doesn't know their Conrad. Didn't Kurtz cause his own horror, through his own blind acceptance of ideas that dehumanized everyone around him?
WHATEVER WORKS  (PG-13; 92 min.), written and directed by Woody Allen, photographed by Harris Savides and starring Larry David and Evan Rachel Wood, opens June 26 at selected theaters.
Click Here to Talk About Movies at Metro's New Blog
Send a letter to the editor about this story.