06.24.09
home | metro silicon valley index | movies | current reviews | film review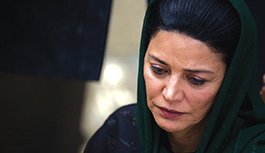 MOTHER OF TEARS: Shohreh Aghdashloo plays a woman whose daughter is condemned to death.
Atrocity Exhibition
'The Stoning of Soraya M.' is a slick stomach turner
By Richard von Busack
IN A blog's comments, I once read a devout Islamist defending the practice of stoning. He claimed it was a relatively compassionate form of public execution. Done right, with a religious authority casting the first stone (he would be without sin, after all), the victim takes one to the temple and never feels a thing. Such are our lives on this planet. Holding off foaming cynicism or madness takes constant struggle. This correspondent would mourn over the bungled execution at the end of The Stoning of Soraya M.; the bumpkins make a real gory mess of it. Then again, director Cyrus Nowrasteh made a similar mess of this picture.
Based on the bestseller by Freidoune Sahebjam, the film starts with a framing device of a man arriving with a boiling-over radiator in the small town of Kupayeh in the mid-1980s; it's Franco-Iranian journalist Freidoune (Jim Caviezel). A mourning woman, Zahra (Shohreh Aghdashloo) gestures for him to come in. She longs to tell the story of the execution of her niece Soraya (Mozhan Marno). The dead woman had been accused of adultery by her brute of a husband, Ali, a policeman with eyes for a 14-year-old second wife. Blameless as she is, Soraya refuses to give the husband a divorce-she and her daughters would starve. Ali figures a way to trump up a charge of adultery, using the local mullah, a former jailbird, to do the framing.
Those too gentle to face this movie, who shudder at the title even but who feel that duty requires that they see it, should yield to the impulse that makes them promise to read the book instead-and go see something else. All you'll learn from the film of The Stoning of Soraya M. is that there is no subject so brutal that it can't be aestheticized through every technique known to a film student. The breaking point for me was the shot of the yawning hole in the ground waiting for the accused adulteress; it was given the famous accordion-shot from the tower scene in Vertigo. Add that to the gory execution itself-real torture porn-and the villagers who conduct themselves like cattle rustlers in a bad Western. Add to that, also, the ethnographic prettying up of the surfaces-it was like someone filming in San Miguel de Allende and claiming it was the most backward village in Mexico.
Worst of all is the wide performance by Aghdashloo: Jeanne Moreau, Melina Mercouri and Anne Bancroft wrapped into one. In a lapse of taste, Zahra tries to upstage the execution itself ("Stone me! I will take her place!"). She's tough enough to slap the mayor, girlish enough to flirt around her chador. In the last shot, she raises her scarves like Batman's cape to protect a fleeing Caviezel. The Islamic Republic may be tottering, but it has a sophisticated film tradition that withstands even terrible censorship. In your mind's eye, you imagine the way some of the real talents in Iranian film could handle a story like this and no doubt will some day. That film to come will earn its tears, instead of drilling for them like a jackhammer.
 THE STONING OF SORAYA M.  (R; 116 min.), directed by Cyrus Nowrasteh, written by Cyrus and Betsy Giffen Nowrasteh, based on the novel by Freidoune Sahebjam, photographed by Joel Ransom and starring Shohreh Aghdashloo and James Caviezel, opens June 26 at Camera 3 in San Jose.
Click Here to Talk About Movies at Metro's New Blog
Send a letter to the editor about this story.