06.24.09
home | metro silicon valley index | movies | current reviews | film review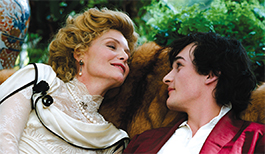 A DAY IN THE COUNTRY: Michelle Pfeiffer dallies with young Rupert Friend in 'Cheri.'
The Boy Friend
Michelle Pfeiffer's dazzling courtesan romances a young man in 'Cheri'
By Richard von Busack
ONCE ONE of the grand horizontals of Paris' Belle Epoque, Lea de Lonval (Michelle Pfeiffer) is ready for retirement and a hobby. She picks a ruinous kind: the care and feeding of a beautiful, diffident young man, nicknamed Cheri (Rupert Friend). Cheri is the son of Madame Peloux, Lea's frenemy--forgive the ugly neologism. What both the courtesan and the courtesan's child had in mind was a dirty fortnight in the Norman countryside. The narrator explains that the tryst lasted six years. And now the still beautiful but aging Lea is quite hooked on Cheri. Meanwhile, Peloux has gotten it into her head that she wants grandchildren to dandle on her lap, and thus she has arranged a suitable marriage for Cheri--with a virgin, of course.
In Cheri, director Stephen Frears reunites with scriptwriter Christopher Hampton and star Pfeiffer to revisit the type of games all three of them played 20 years ago in Dangerous Liaisons. There are reference points between this film and the older one. Having a meal alone, in misery, Lea's glance falls on a fork, and we can hear in our mind's ear the speech Glenn Close's Marquise made about learning how to look cheerful while under the table she stuck a fork into the back of her hand. The two films end similarly, too. The difference, in two words: no Malkovich. The male point of view, the reverse angle, is neglected in this adaptation of two novels by Collette.
The film brings out Pfeiffer's gloriousness, her translucent skin, the limbs and hair still golden. But this deeply Southern Californian actress tries to play a Parisienne through formal diction and an exhausted drawl. Something simpler might have worked better. Visually, Pfeiffer is just right for the part, but when she speaks, you have doubts. The drawl makes Lea seem affected and odd. Ideally, the role of Lea would go to Fanny Ardant, or someone whose pride seemed less like a mask and something that was in her bones. Pfeiffer is best when the mask drops. When Lea sits up in bed, weeping--no, howling--for her faithless, worthless lover, Cheri gets it right emotionally as well as visually. Lea is posed as the normal member of a bizarre family of professional companions. Afternoons at Madame Peloux's become ever more odd. One courtesan called Lili (Gaye Brown) resembles nothing more romantic than Bozo the Clown. The idea of such garishness must be to make Lea look the best and the brightest of her profession.
She does, yet Kathy Bates' Madame Peloux walks away with this picture, not that she does much walking. She spends a good deal of the film with feet propped up, a half-smile on her face. Here is a woman, in author ZZ Packer's phrase, who wears her fat like a mink coat. She looks like a woman who knew how to keep her customers amused. Peloux's motivation isn't clear--it can't just be plain sadism that makes her step aside when her son puts the moves on Lea. Still, the elegantly bitchy dialogue is rich. Examining Lea's neck, Peloux comments, "Don't you find that now that the skin is less firm, it holds perfume so much better?"Cheri isn't firm either, but it holds its perfume. The film appeals as a gaze-fest at Pfeiffer with its sturdy plot and its heart-tugging story of heartlessness.
CHERI  (R; 100 min.), directed by Stephen Frears, written by Christopher Hampton, based on novels by Colette, photographed by Darius Khondji and starring Michelle Pfeiffer and Kathy Bates, opens June 26.
Click Here to Talk About Movies at Metro's New Blog
Send a letter to the editor about this story.